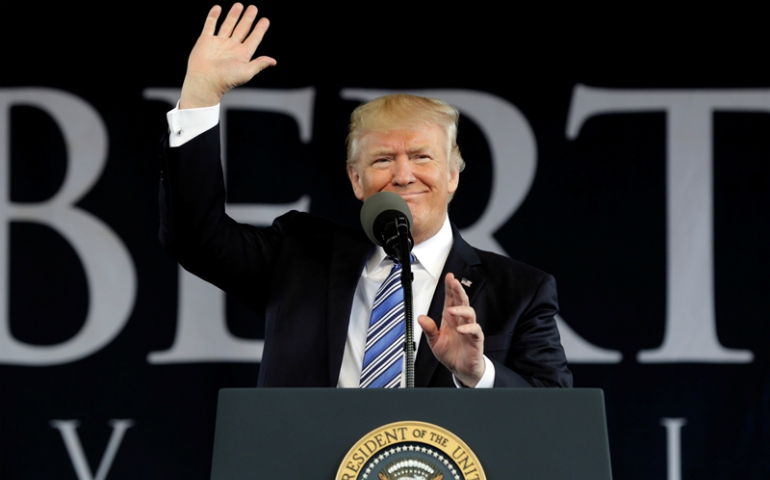 President Donald Trump waves before delivering keynote address at Liberty University's commencement in Lynchburg, Va., on May 13, 2017. (REUTERS/Yuri Gripas)
President Trump will deliver an "inspiring yet direct" speech on the need to confront radical ideologies during his upcoming trip to Saudi Arabia.
The speech will come during an afternoon lunch with leaders of more than 50 countries with mostly Muslim populations, White House national security adviser H.R. McMaster announced May 16.
In it, the president will share his hopes for a "peaceful vision of Islam to dominate across the world," McMaster said. He also said the speech will demonstrate America's commitment to what he called its "Muslim partners" and aim to "unite the broader Muslim world against common enemies of all civilization."
Afterward, Trump will participate in the opening of a new center to "fight radicalization and promote moderation," according to the adviser.
"By establishing and operating the center, our Muslim friends, including Saudi Arabia, are taking a firm stand against extremism and those who use a perverted interpretation of religion to advance their criminal and political agendas," McMaster said.
Details of the president's speech on Islam come the day after U.S. appeals court judges questioned whether Trump's temporary travel ban discriminates against Muslims. The two executive actions, which have been widely seen as a "Muslim ban" and blocked by courts, temporarily ban people entering the United States from six Muslim-majority countries and follow the president's campaign promise to ban all Muslims from entering the country.
The president has delivered many speeches on Christianity to mixed reviews, most recently giving the commencement address at Liberty University in Lynchburg, Virginia, the nation's largest Christian university. He also has spoken to Jewish and Hindu audiences at the Holocaust Remembrance Day ceremony at the U.S. Capitol and a fundraising event held by the Republican Hindu Coalition.
Trump leaves for his first foreign trip as president on Friday. The trip will begin in Saudi Arabia and also will include stops in Israel, where McMaster said the president will visit the Church of the Holy Sepulchre and say a prayer at the Western Wall, and the Vatican, where he is scheduled to meet Pope Francis and tour St. Peter's Basilica.