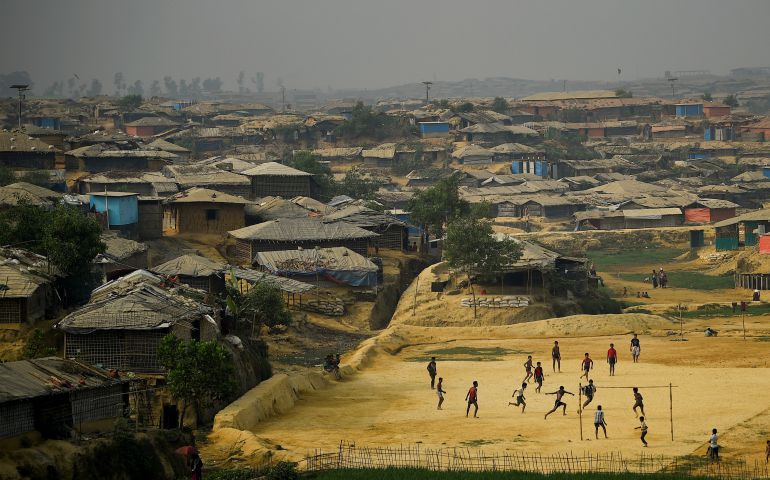 Rohingya refugees play football at a refugee camp in Cox's Bazaar, Bangladesh, March 27. (CNS/Reuters/Clodagh Kilcoyne)
As the United Nations marks World Refugee Day today, the world body is grappling with crafting two new frameworks for its members in responding to the record numbers of refugees and migrants across the globe.
In the wake of 68.5 million people being displaced, 25.4 million of them refugees, according to UNHCR, the United Nations' refugee agency, one agreement would update the decades-old definition of migrants. The other agreement would update the one for refugees.
Particularly contentious issues include whether or how to include people displaced by climate change, and how to deal with flows of migrants — or "irregular migration" in U.N. parlance — outside normal immigration channels.
Daily news recounts the struggles of those fleeing their homes, including when countries rebuff them to protect borders. The plight of 600 rescued migrants aboard three ships recently turned away from Italy and Malta before being accepted by Spain made headlines in Europe and the United States. Some Italian leaders argued that they struggle with an undue burden as a "frontline" country where migrants first land when coming to Europe. And at the U.S.-Mexico border, the policy of separating families is bringing harsh criticism, even from supporters of the Trump administration.
While countries zealously guard right to enforce their borders, the U.N. "compacts" — based on the United Nation's 2016 New York Declaration that lead up to this year's negotiations — would set general guidelines that signatory countries would follow.