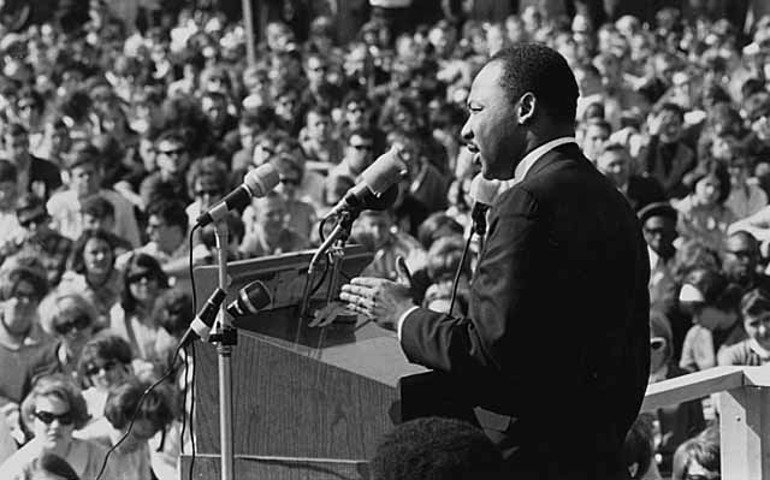 The Rev. Martin Luther King speaks at a rally against the Vietnam War in St. Paul, Minnesota, April 27, 1967. (Wikimedia Commons/Minnesota Historical Society)
Upon the 50th anniversary of the Rev. Martin Luther King's historic "Beyond Vietnam: A Time to Break Silence" speech at Riverside Church on April 4, 1967, its ultimate spiritual and political significance seems lost on the American people. Too many were closed to his message 50 years ago and remain so today, but there is a crying need for King's revolution of love now more than ever due to our unprecedented period of historic global change.
We live in a time of many profound disconnects. Outdated political and economic systems and modes of thought and action no longer serve the common good. Most problematic is the disconnection between an industrial-age, fossil-fuel economy and the need to lead a massive shift to a global economy based upon renewables.
Other disconnections tearing the fabric of society include the myth of unlimited growth without regard for the finite resources of planet Earth, the ever-growing gap between haves and have-nots, and the painfully devastating gulf between the governing elite and the voices and lives of the underserved. The madness of it all is exacerbated by the illogic that increased military power serves domestic and international security.
King wondered: "If America's soul becomes totally poisoned, part of the autopsy must read: Vietnam. It can never be saved so long as it destroys the deepest hopes of men the world over."
Today, the Trump administration's proposed federal budget seeks to destroy the "deepest hopes" of the most vulnerable everywhere. The proposed cutbacks in non-defense discretionary spending immediately shift $15 billion to defense spending in fiscal year 2017 and $54 billion in fiscal year 2018.
These reallocations deepen austere cuts already enacted over the last seven years through the sequestration cutbacks initiated in 2011 for anti-poverty programs. President Donald Trump's proposed budget cuts job training programs and weakens the Labor Department's ability to ensure safe working conditions where workers are paid what they earned.
The budget proposes cutting student aid and work-study programs, economic development programs for cities and rural communities, and it reduces housing assistance to families struggling to pay rent. I find it preposterous to claim that we are truly democratic when we do not provide legal defense to the indigent but impose devastating cuts to an already beleaguered Legal Services Corporation that helps fund legal aid services nationwide.
If the administration and Congress really cared about the health and well-being of the most vulnerable Americans, including 20 million to 22 million who have recently gained health coverage through the Affordable Care Act, they would take the repeal of the act off the table, seek to stabilize the individual health insurance markets and work with Democrats to make necessary corrections to the act that would serve the common good.
Rather, this administration's federal budget exclusively aims to increase the destructive power of the U.S., the world's greatest purveyor of armaments. The U.S. spends more on the military than the military budgets of the next seven nations combined. Going back to King and Vietnam, no other nation but the U.S. has led the world in military power — and no other nation in history connects its power through 800 bases with military personnel in over 160 countries.
At the core of his historic speech in 1967, King highlighted the intimacy of God's creation through Jesus Christ, whose message is for both "communists and capitalists." King raised a piercing question for his critics: "Have they forgotten that my ministry is in obedience to the One who loved his enemies so fully that he died for them? What then can I say to the Vietcong or to Castro or to Mao as a faithful minister of this One? Can I threaten them with death or must I not share with them my life?"
Ultimately, King articulates his opposition to violence as radically constituted in our calling as children of God. He called for a revolution of love. King's revolution calls both for the compassion of being a good individual Samaritan on "life's roadside" and working collectively to restructure the entire "Jericho Road" so that "men and women will not be constantly beaten and robbed as they make their journey on life's highway."
Such a revolution today must be constituted, I believe, by diverse contemplative communities that collaboratively enact prototypes of a new society oriented to ecological sustainability and full thriving for the most vulnerable members of God's creation.
This Easter season, the Spirit lures and draws together diverse contemplative communities of loving revolution the world over — how are we co-leading an emerging future of ecological sustainability?
[Alex Mikulich is assistant director of the Office of Mission and Ministry and director of the FaithActs Youth Theology Institute at Loyola University, New Orleans.]
A version of this story appeared in the May 5-18, 2017 print issue.