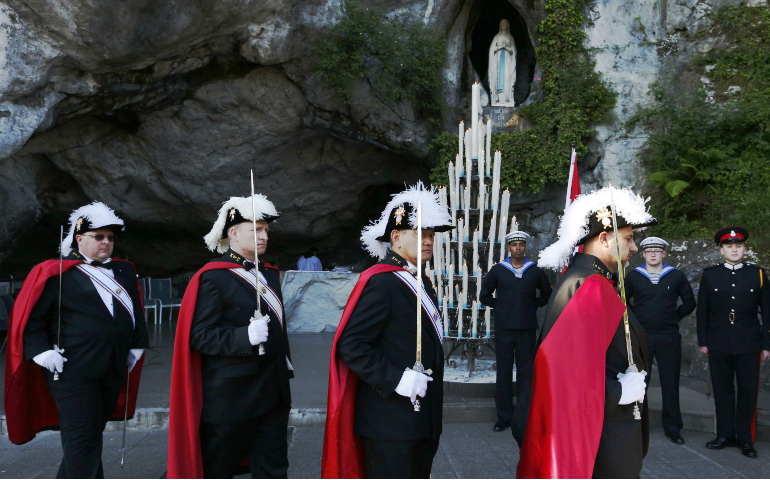 A Knights of Columbus color guard leaves after a Mass during a military pilgrimage at the Shrine of Our Lady of Lourdes, May 17, 2014, in southwestern France. (CNS/Paul Haring)
In this episode, Brittany talks to Sr. Rose Pacatte about the new Netflix documentary series "The Keepers," which focuses on the unsolved murder of a Catholic sister in Baltimore in 1969. Later, NCR contributor Nicole Sotelo and editor-at-large Tom Roberts talk about the Knights of Columbus and the organization's immense financial influence in the Catholic sphere.
Show Notes
How do I listen?
From your iPhone or iPad: Open the preloaded app called "Podcasts." It has a purple icon. If you're reading this from your phone, tap this link, which will take you straight there. (You can also use the magnifying glass icon to search; type "NCR in Conversation.") Once you're on the series page, you can tap on an episode title to play it. Tap on the "subscribe" button to have new episodes sent to your phone. If you prefer another podcast player, you can find "NCR in Conversation" there. (Here's the RSS feed.)
From your Android phone or tablet: You can listen and subscribe using the preloaded Google Play Music app. If you're reading this from your phone, tap this link to play the latest episode and learn more about the app.
From your desktop or laptop: You can also simply press the play button above to listen on this page. Make sure to keep this window open on your browser, or the audio will stop. You can find the latest episode of NCR in Conversation at NCRonline.org/podcast.