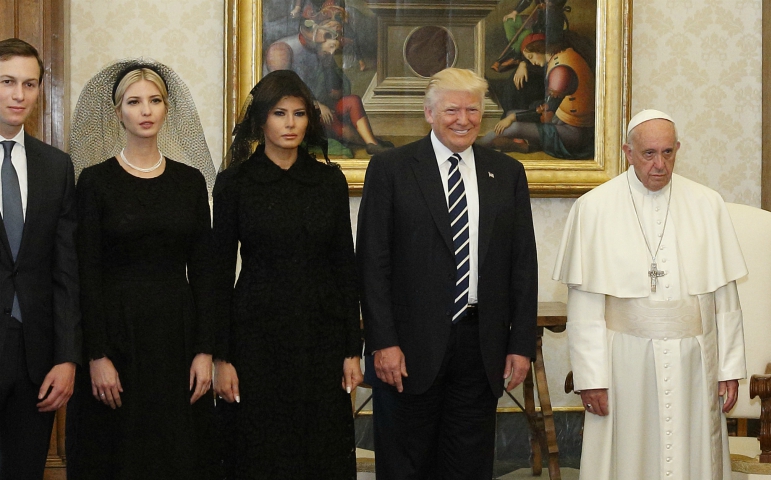 Pope Francis poses for a photo with President Donald Trump, his wife Melania and daughter Ivanka Trump, accompanied by her husband, Jared Kushner, during a private audience at the Vatican May 24. (CNS/Paul Haring)
Brittany is joined by Jesuit Fr. Tom Reese to discuss President Donald Trump's trip to Saudi Arabia. Later, Melanie Lidman shares her experience reporting on Trump's visit to Israel, and Maureen Fiedler muses on Trump's meeting with Pope Francis.

Show Notes
How do I listen?
From your iPhone or iPad: Open the preloaded app called "Podcasts." It has a purple icon. If you're reading this from your phone, tap this link, which will take you straight there. (You can also use the magnifying glass icon to search; type "NCR in Conversation.") Once you're on the series page, you can tap on an episode title to play it. Tap on the "subscribe" button to have new episodes sent to your phone. If you prefer another podcast player, you can find "NCR in Conversation" there. (Here's the RSS feed.)
From your Android phone or tablet: You can listen and subscribe using the preloaded Google Play app. If you're reading this from your phone, tap this link to play the latest episode and learn more about the app.
From your desktop or laptop: You can also simply press the play button above to listen on this page. Make sure to keep this window open on your browser, or the audio will stop. You can find the latest episode of NCR in Conversation at NCRonline.org/podcast.