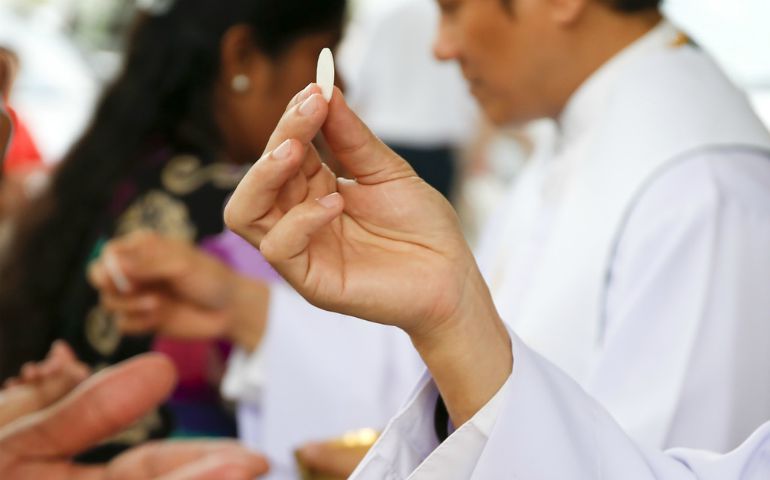 (CNS photo/Diego Azubel, EPA)
A Jewish woman finds that when Christian leaders lead the battle against hate, it sends a powerful message.
As six parishes in the city of Camden, New Jersey, become three, Catholics prepare for changes.
The Archdiocese of Hartford consolidation process continues. A church in New Haven is sold to a rabbinical school, while the Catholics of that city, home to Yale and the Knights of Columbus, adjust.
The pope isn't denying Communion to those with celiac disease.
Pastor at the largest parish in the United States retires and says the church should change its rules about mandatory celibacy for clergy. National Catholic Reporter recently wrote about his 35,000- member parish.
As Cardinal George Pell faced court today, parishes are working to guard against sex abuse in Australia.
In Chicago, an historic parish marks an anniversary. Holy Family Church has served both Irish Americans and African Americans in its 160-year history.
Proving it can be done: A married Milwaukee Catholic pastor juggles responsibilities for a parish, wife and eight children.
Youths from the Diocese of Saginaw, Michigan, meet up with new friends from Detroit.
A black Jesus statue, transformed from a white Jesus during the 1967 Detroit riots, stands on the grounds of Sacred Heart Seminary in that city.
[Peter Feuerherd is a correspondent for NCR's Field Hospital series on parish life and is a professor of journalism at St. John's University, New York.]
Editor's note: Want more stories from The Field Hospital? Sign up here for the latest parish news twice a week.