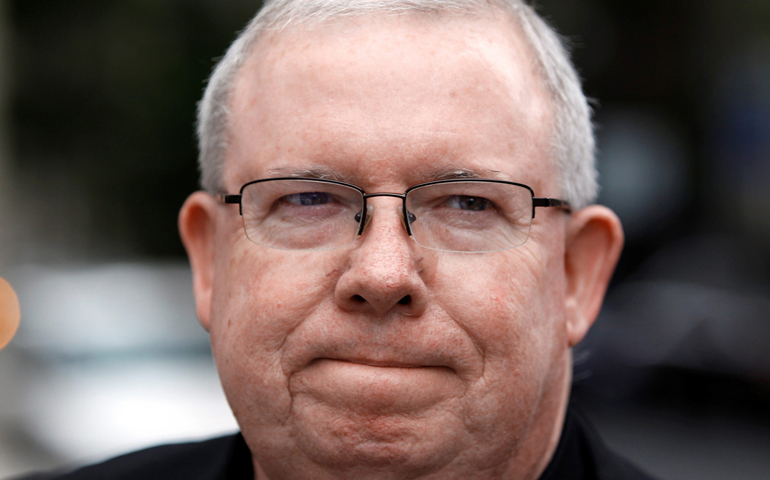 Msgr. William Lynn in a 2012 CNS file photo (CNS/Tim Shaffer, Reuters)
A decision from the Pennsylvania Supreme Court Tuesday opened the door for Msgr. William Lynn to exit state prison as he awaits a new trial for his role in the supervision of a sexually abusive priest of the Philadelphia archdiocese.
The state Supreme Court rejected a petition from the Commonwealth of Pennsylvania to review an appeal court's overturning of Lynn's 2012 conviction for endangering the welfare of a child. Lynn, the archdiocesan secretary for clergy from 1992 to 2004, was the first U.S. church official convicted for his handling of sexual abuse allegations.
In December, a three-judge Superior Court panel vacated the conviction and ordered a new trial after it found the trial court "abused its discretion" by allowing the prosecution to enter as evidence 21 supplemental cases of sexual abuse -- some dating back to 1948, or three years before Lynn was born.
The Superior Court ruling was the second time in two years it reversed the priest's conviction. A week later, Philadelphia District Attorney R. Seth Williams appealed that ruling, which the state Supreme Court denied Tuesday.
The news of Lynn's pending release was first reported by journalist Ralph Cipriano at BigTrial.net. Cipriano has also reported on the Lynn trial for NCR.
According to Cipriano, Lynn's lawyer Thomas Bergstrom will file a bail motion in the morning, and expects his client will be released immediately from Waymart State Prison. Lynn was already set to be released on bail in October, which would have marked completion of three years of his three-to-six year prison sentence.
Tuesday's Supreme Court ruling marks the latest chapter in the ongoing saga of Lynn's legal tribulations. Since the beginning of his trial in February 2012 and his conviction that June, the priest has claimed his innocence through numerous appeals, overturned rulings, and 15 months under house arrest.
In addition, investigative reports have questioned the credibility of the key witness in his trial and conviction, whose testimony also led to the convictions of two other priests and a school teacher.
[Brian Roewe is an NCR staff writer. Follow him on Twitter: @BrianRoewe.]