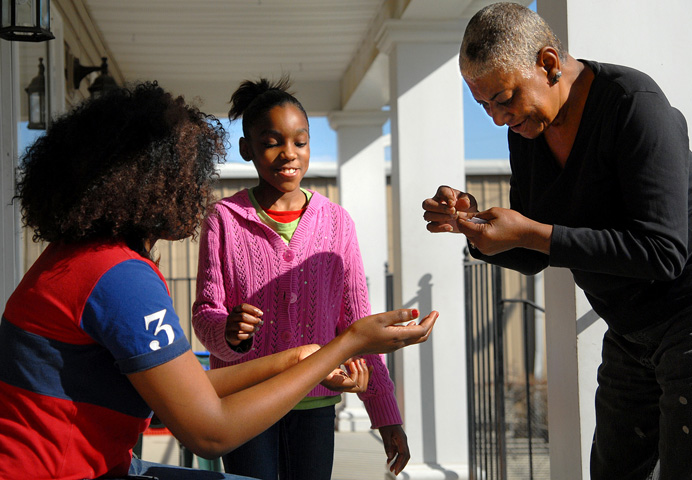 Children spend time with their grandmother in 2012 on the front porch of their home in Hillsdale, Mo. (CNS/Sid Hastings)
Come to NCR for comprehensive coverage of reactions to Pope Francis reflection on family life, Amoris Laetitia ("The Joy of Love"). The apostolic exhortation was released at mid-day in Rome April 8 (6 a.m. Eastern time). NCR reporters are at work gathering analysis and reactions to the pope's reflections on family life and the two world synod of bishops he called to discuss families.
While we are working on a full story, read some of the initial reactions here.
---
Reaction from John Gehring, Catholic program director at Faith in Public Life
"The pope discusses the challenges families face not in a culture war framework that often is the default setting for some conservative leaders, but in a much broader context. He underscores that affirming family values must include addressing lack of dignified work and economic exclusion. It's a message that Catholic politicians who oppose policies like paid parental leave and raising the minimum wage need to hear."
-- Posted by NCR Staff 8:46 a.m. Central, April 11
Applause, dismay, confusion over pope's words
Cathy Lynn Grossman, Religion News Service (complete story here)
Pope Francis' "Joy of Love", a massive document released April 8 that wraps unchanged doctrine on marriage, divorce, and LGBT life in gentle terms, is getting a mixed reaction from U.S. Catholics.
It brought joy to conservative Christians who feared Francis would tamper with dogma, but less love from liberals who had hoped for a change in practices, not simply in tone. Statements flooded out from both directions. A sampling:
Analysis by Catholic publications also divided on which themes to highlight.
The National Catholic Register highlighted a different thread through the document, one that might disturb conservatives by muddying up traditionalist ideas of clear rules with unspecified pastoral discretion: "Francis speaks in the chapter of a 'need to avoid judgments' that don't take account of the 'complexity of various situations' and stresses the need of 'reaching out to everyone.' The divorced, he writes, should not be pigeonholed in 'overly rigid classifications,' leaving no room for personal and pastoral discernment."
Reaction did not only come from Catholics struggling with the complex material and conflicting ways to read it. The Rev. Russell Moore, president of the Southern Baptists Ethics and Religious Liberty Commission, tweeted:
-- Posted by NCR Staff 11:52 a.m. Central
Vienna Cardinal Christoph Schonborn: Document on family develops doctrine, doesn't change it
Pope Francis' document on the family reflects an "organic development" of church teaching and doctrine, said Vienna Cardinal Christoph Schonborn, theologian and participant in both synods that dealt with the topic.
"There are true innovations, but no break" in tradition, the cardinal told reporters during a news conference at the Vatican April 8 presenting the apostolic exhortation "Amoris Laetitia" ("The Joy of Love").
The document emphasizes the need for greater reflection and discernment by pastors and Catholic couples in so-called "irregular" situations as they look for ways they can participate more deeply in church life, he said.
Proper discernment is nothing new, the cardinal told another reporter. It has always been the serious duty of the lay faithful and their pastors or confessors. Everyone is responsible, he said, because "you cannot play with the sacraments, you cannot play with the conscience."
Those in a broken marriage must honestly examine their conscience before God, he said, and reflect on their role in the marriage's breakdown or whether it was canonically valid in the first place.
Read the full story from Carol Glatz at Catholic News Service.
-- Posted by NCR Staff 11:05 a.m. Central
Irish reform group welcomes exhortation, but regrets families 'had no deliberative voice' in synod
Statement by Catholic reform group We Are Church Ireland
'We have been called to form consciences not replace them.' -- Pope Francis.
We Are Church Ireland welcomes the publication of "Amoris Laetitia" -- the reflections of Pope Francis on the recommendations of the 2014 and 2015 Synod of the family. However the Synod recommendations did not reflect the voices of Catholic families who had no deliberative voice throughout the course of both Synods.
While its pastoral outlook and its emphasis on the "logic of mercy" are very welcome we are disappointed that there are no positive changes for the many divorced and civilly remarried Catholics who are in second relationships.
Its nine chapters cover the many issues facing Catholics from "the excessive idealization of marriage" to the position of Catholics in "irregular unions." Throughout his Exhortation he emphasizes the superiority of mercy over justice and truth. A significant sentence is "Mercy is the fullness of Justice and the most radiant manifestation of God's truth."
The Exhortation calls on States to promote employment, decent housing and adequate health care as well as for migrants and people with special needs.
Significantly Pope Francis denounces the excesses of "patriarchal culture and male chauvinism and in a positive development says that 'we must see in the women's movement the working of the Spirit for a clearer recognition of the dignity and rights of women."
Chapter 8 is the most significant section of the document. In it he states very clearly that "It can no longer be said that all those in any irregular union are living in a state of mortal sin and are deprived of sanctifying grace."
The implication of this statement means that people in irregular unions can now receive Communion as they are not in a state of mortal sin which in traditional theology was the only barrier to receiving the Eucharist. While Pope Francis in footnote 351 seems to assert this change there is still too much ambiguity in this regard.
Pope Francis justifies his decision for no definite change by asserting that 'No easy recipes exist and as a result neither the Synod nor this exhortation could be expected to provide a new set of general rules , canonical in nature and to be applicable in all cases'.
He calls for divorced and civilly remarried Catholics to be more fully integrated into the Christian Community.
While Pope Francis reiterates the ban on artificial contraception he states that 'responsible parenthood doesn't mean unlimited procreation but the empowerment of couples to use their inviolable liberty wisely and responsibly taking into account social personal and demographic realities.'
Throughout the document Pope Francis emphasizes the importance and the role of individual conscience .
The one area where Pope Francis has failed to recognize is the giftedness and grace of Gay and Lesbian people both as single people and in their relationships.
Overall this is a positive step forward by Pope Francis especially on his emphasis on the overarching importance of Mercy and compassion in the Church and recognizes that in the Church "We find it hard to make room for God's unconditional love."
-- Posted by NCR Staff 10:15 a.m. Central.
Pope is walking in 'the complexity and messiness of real life'
Statement from John Gehring, Catholic program director at Faith in Public Life
"Pope Francis is driving a nail in the coffin of fortress Catholicism by urging church leaders to build brides not walls. The document is both hopeful and a powerful rebuke to those who put judgment before grace. The pope knows that doctrine is most alive when it is a doctrine in the streets, walking into the complexity and messiness of real life."
—Posted by NCR Staff 8:35 a.m. Central.
USCCB Family Life Committee Chairman welcomes Pope Francis' Apostolic Exhortation on Love in the Family
WASHINGTON -- Pope Francis' new apostolic exhortation, Amoris Laetitia (The Joy of Love), released April 8, brings "a rich reflection on the mission of the family and on how the Church can equip couples to embrace God's vision for marriage and can offer healing for families who are struggling," said the chairman of the U.S. Conference of Catholic Bishops' (USCCB) Committee on Laity, Marriage, Family Life and Youth.

"We welcome this teaching from Pope Francis as the fruit of the synodal process started by him more than two years ago—a process that has inspired in our Church, and indeed all over the world, a renewed attention to the importance of marriage and the family for all of society," said Bishop Richard J. Malone of Buffalo, New York, chairman of the Committee. "I encourage all Catholics, especially those living the vocation of marriage and family life, to take time to read and study the exhortation as a pastoral guide to the great calling of marriage in the Lord."

Bishop Malone called the exhortation "an inspirational aid for the clergy and laity who generously accompany couples as they prepare for marriage and throughout their married life, in both their joys and difficulties."

The post-synodal apostolic exhortation Amoris Laetitia is the culmination of a synodal process called for by Pope Francis in 2013. The Extraordinary General Assembly of the Synod of Bishops met in October 2014 on the theme "The pastoral challenges of the family in the context of evangelization." In October 2015, the Ordinary General Assembly of the Synod of Bishops built on the first synod by examining the theme "The vocation and mission of the family in the Church and in the contemporary world." Bishops, clergy, religious and lay people at both synods, together with Pope Francis, addressed a wide array of topics that concern marriage and family life today.
More information is available at www.usccb.org/amoris-laetitia.
—Posted by NCR Staff 6:35 a.m. Central.
Pope's 'Joy of Love' Is Not Very Joyful for LGBT Catholics
Statement of Francis DeBernardo, Executive Director, New Ways Ministry
Pope Francis' latest document, Amoris Laetitia (The Joy of Love), does not inspire joy in LGBT Catholics and their supporters. As far as sexual orientation and gender identity issues are concerned, the pope's latest apostolic exhortation reiterates church formulas which show that the Vatican has yet to learn from the experiences and faith lives of so many LGBT Church members or their supporters.
Though the pope calls for church leaders and ministers to be less judgmental and to respect individuals' consciences, he has not provided a new pastoral approach to LGBT issues or people.
On other topics concerning the family, Amoris Laetitia, offers some hopeful advice—and if this advice were simply applied to LGBT issues, which would not be incompatible to do, this document would have been much more positive. Pope Francis calls for non-judgmental pastoral care, assisting people in developing their consciences, encouraging diverse pastoral responses based on local culture, and calling church leaders to be more self-critical. All these things, if applied to LGBT people and issues, could produce enormous positive change in the church.
Instead of listening to more progressive voices at the synods who called for greater understanding and dialogue with the LGBT community, the pope simply repeated church condemnations of same-sex unions, adoption by lesbian and gay people, and the complexities of gender identity. …
Given the new general pastoral direction of this document, there is potential for further development in regard to LGBT issues. Much more faithful witnessing of LGBT Catholics and their supporters, as well as continued steps toward dialogue with Church leaders, will further this goal. …
Such dialogues can transform those in so-called "complicated situations," but they can also transform the Church's ministers and leaders. This process is a proven method for the development of doctrine in the Catholic Church.
Read the full statement here.
—Posted by NCR Staff 6:18 a.m. Central.
Statement from Most Reverend José H. Gomez Archbishop of Los Angeles on Pope Francis' Apostolic Exhortation on Love in the Family
Amoris Laetitia ("The Joy of Love") is a deep and important document.

... The Pope has asked us to read his reflections slowly and carefully and I am going to continue to do that.

Personally, I was encouraged by what the Pope has to say about preparing men and women for marriage and about our need to accompany couples, especially during those early years when they are just starting out on the path of their life together. I was also touched by our Holy Father's call for all of us in the Church to reach out with compassion to wounded families and persons living in difficult situations.

In the days and weeks ahead, I pray that all of us will reflect on our Holy Father's words and continue to look for ways to speak to the hearts of the men and women of our time. We need to inspire people to see marriage and family as God's way for their lives, and to call them to this adventure in life-long love that grows deeper through the sharing of joys and trials and the bringing of new life into the world.

We all have a lot to learn from Amoris Laetitia.
—Posted by NCR Staff 6:07 a.m. Central.
---
This page will be updated throughout the day. Come back often.