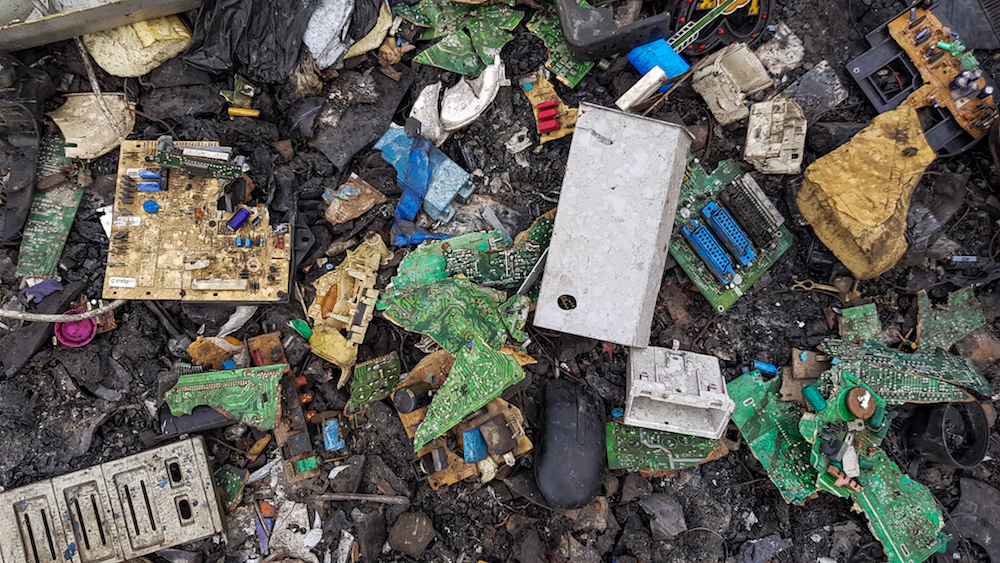 Less than 20% of the world's electronic waste gets recycled formally; the rest ends up in dumps like this one in Ghana, where informal recyclers may scavenge items to extract valuable materials under hazardous conditions. (Wikimedia Commons/Muntaka Chasant)
Editor's Note: EarthBeat Weekly is your weekly newsletter about faith and climate change. Below is the Oct. 15 edition. To receive EarthBeat Weekly in your inbox, sign up here.
When I first moved to Lima, Peru, more than 30 years ago, water service was unreliable, electricity could be capricious and many goods were scarce or very expensive. But if something broke, it was easy to find someone who could repair it — the cobbler around the corner who patched worn luggage as well as shoes, the man in the market who was a wizard with small appliances like blenders, the sisters who could make a moth-chomped sweater look like new.
Venerable Volkswagen Beetles were everywhere, and if one broke down, it seemed like just about everybody knew how to get it going again.
Then the economy grew, more people had disposable income and imported goods flooded in. Suddenly there were more options, at lower prices. And little by little, the repair shops disappeared. If something breaks now, the owner is more likely to throw it out and buy a new one.
This process — the same one my parents had witnessed decades earlier in the U.S. — has ushered in the throwaway society that Pope Francis has warned about in Laudato Si' and other writings.
We throw out a lot of stuff, and some of it is perfectly usable, as several dumpster divers with a conscience have found in New York City. On EarthBeat this week, freelance journalist Whitney Bauck describes how these "trashers" take to the streets at night to rifle through the items discarded by families, stores and schools, then post photos of their finds on Instagram.
They've included things like books, packages of colored pens and a globe outside a school; unopened cosmetics and post-holiday Christmas cards, deliberately slashed so they can't be used, at a drugstore; and lots and lots of food. Taken together, they paint a stark picture of a society addicted to consumption.
Even more alarming is the amount of electronic equipment discarded each year — in 2019, it added up to 53.6 million metric tons, or 16 pounds for every person on the planet, according to "The Global E-Waste Monitor 2020" report.
More people are buying electronic items like mobile phones and computers, which have relatively short life cycles and are difficult to repair. Asia generates the largest amount of electrical and electronic waste, or e-waste, annually, followed by the Americas, but Europe has the highest per-capita rate, the report says.
Electronic equipment and electric appliances like refrigerators contain hazardous substances, such as mercury and chlorofluorocarbons, as well as valuable elements, including precious metals.
Only about 17% of that electronic waste is recycled, however, because recycling is expensive, in part because electronic equipment is not designed with recycling in mind. So although the raw materials in the e-waste generated in 2019 were worth some $57 billion, only about $10 billion worth were recovered through recycling.
It's not clear what happens to the rest. Some discarded items go to landfills, where they may contaminate soil or groundwater, and others are dismantled by informal recyclers who risk their health and that of their families by exposure to hazardous substances.
Discarded refrigerators and air conditioners can be a source of greenhouse gases if not handled correctly, and unrecycled electronics contribute to global warming indirectly, because new materials must be mined and manufactured to replace them.
The number of countries with e-waste legislation and regulation increased from 61 in 2014 to 78 in 2019, but far more needs to be done to create incentives to increase recycling, the report's authors say.
"An economic system detached from ethical concerns does not bring about a more just social order, but leads instead to a 'throw away' culture of consumption and waste," Francis told business leaders in 2019. Unfortunately, that culture will persist until the global economy is structured so that what we pay for goods and services reflects their environmental and social costs, as well as parts and labor.
That would almost certainly raise the prices of many products, but it would also make us more careful stewards. And perhaps then we'd seek out the cobbler, the knitters or the repairer of small appliances instead of throwing worn items out, where dumpster divers remind us of our excess.
---
Here's what else is new on EarthBeat this week:
And elsewhere on the climate beat:
---
Upcoming events:
This week's events include a discussion about the rights of nature, an exploration of the sacredness of water, a look at the creation of a grassroots movement to implement Laudato Si' and solemn vespers celebrated by Cardinal Blase Cupich to give thanks for God's gift of creation.
You can find more information about these and other events on the EarthBeat Events page, and you can add your group's event here.
---
Closing beat:
Roewe will have more stories about how Catholics plan to raise a voice of faith at the November climate summit, and he'll be in Glasgow during the first week of the meeting, so watch for his reports on EarthBeat in the coming weeks.
If you enjoy EarthBeat and find it useful, please consider supporting our work as a member of NCR Forward, for as little as $5 a month. You can find more information here.
Thank you for reading EarthBeat!