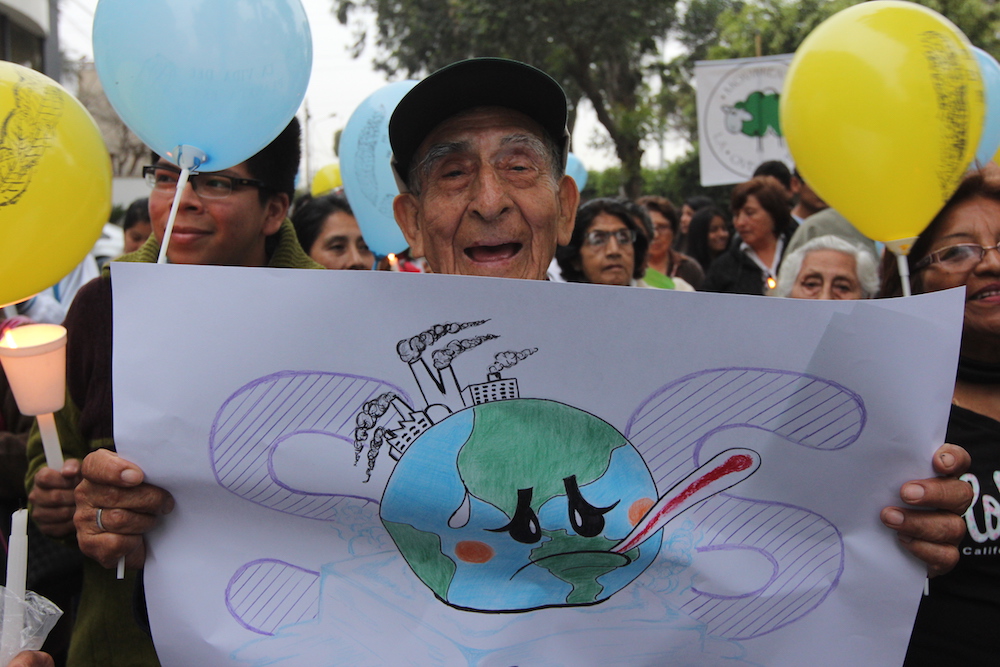 A man participates in an interfaith vigil before the 2014 U.N. climate summit in Lima, Peru. (Barbara Fraser)
Editor's Note: EarthBeat Weekly is your weekly newsletter about faith and climate change. Below is the Jan. 1 edition. To receive EarthBeat Weekly in your inbox, sign up here.
Happy 2021! As we begin a new year, this seems like a good time to look back at where we've been and where we're going. I joined EarthBeat five months ago, and it feels like home now — although I'm kind of glad that my physical home is in Lima, Peru, in the Southern Hemisphere, where we're now having summer instead of winter.
More than 700 of you generously took time to respond to our reader survey a few weeks back, when EarthBeat celebrated its first birthday. I'd like to share some of the results with you, and let you know how your input will help shape our coverage in the coming year.
You told us a little about yourselves — first of all, most of you are taking steps to shrink your ecological footprint by doing things like composting, recycling or making your homes more energy efficient.
Nearly one-third of you participate in community-based environmental activities, and slightly fewer belong to a creation care committee in your parish. Almost half of you make your voice heard on environmental issues by doing things like contacting government officials.
Most of you are pretty happy with EarthBeat's coverage — which makes us happy, too. The articles that people say they read most on EarthBeat are national and international news and those related to spirituality — things like our recent Simple Advent, Abundant Life series, as well as our earlier reflection series this year, the Lenten daily food reflections and Lens on Creation.
Slightly more than half of you say we're doing the right amount of coverage of the ways in which climate change affects people in the U.S. and around the world — although nearly half would like to see more. We'll keep trying to strike the right balance. More than half would also like to see more explicit environmental justice coverage. We consider that the heart of EarthBeat and will do what we can to sharpen our focus.
Some of you suggested more scrutiny of the ways in which corporations, governments and other institutions stray from the teachings of Pope Francis' encyclical Laudato Si', so we'll try to look at that more systematically. Our recent story about efforts to pressure Boston College to divest from fossil fuel investments is one example.
And while our coverage of universities and other groups divesting from fossil fuels always draws a lot of attention, a few of you pointed out that someone else is likely to buy that stock and wondered whether those groups are also taking other actions, such as making their campuses more sustainable. We'll ask — and for sustainable campus ideas, you can check out this week's story about the University of St. Mary of the Lake/Mundelein Seminary's new solar array and our recent story about Loyola University Chicago's School of Environmental Sustainability for some ideas.
Many of you asked for more coverage of the things ordinary Catholics and parishes are doing or can do to reduce their ecological footprint and help address climate change. You can expect to see more stories on EarthBeat about those kinds of actions in the coming year. Among other things, we'll be partnering with the Solutions Journalism Network on a series of stories about different ways in which women's religious communities are seeking to protect their land for the future — and what other groups, both inside and outside of the church, can learn from their experiences.
Our stories about issues at the intersection of religion, environment and politics are always popular among readers, so we'll be keeping an eye on the incoming Biden administration's policies and asking faith leaders to comment on them. And we'll be starting off 2021 with a story from NCR environment correspondent Brian Roewe about climate action to expect from Catholics and other faith groups in the months ahead.
Some of you also asked whether formation for priests and religious is grounded in the principles of Laudato Si'. We will see what we can find out. And several of you suggested that we make a greater effort to emphasize that environmental degradation and climate change, which have a negative impact on people's health and well-being, are pro-life issues. We hear you.
In the coming year, we also look forward to exploring the ways in which all of creation is interconnected, looking at how Catholics are working to protect and restore forests, the legal and ethical issues involved in granting rights to rivers, and whether it's time to move beyond concepts like "stewardship" and "care for creation" to a more radical understanding that we are members of a community that includes both human and other-than-human beings.
EarthBeat is a journey. Thanks for sharing it with us.
---
Here's what else is new on EarthBeat:
---
Elsewhere in climate news this week:
Upcoming events:
"Orthodox Initiatives: What is happening in parishes, what is possible and effective," from 6 p.m. to 7 p.m. Eastern Time on Jan. 7, is the first of four webinars in the "Greening the Parish" series sponsored by the Greek Orthodox Archdiocese of America.
You can find more information about this and other upcoming events — and add your own event to the list — on the EarthBeat Events page.
---
Closing beat:
The reader survey we conducted in the fall was the beginning of a conversation with you, our readers, not the end. We'd like to know what other topics you'd like us to cover in the coming year. Please drop us a line and let us know at earthbeat@ncronline.org.
If you like EarthBeat Weekly, please spread the word! Feel free to pass along the link to EarthBeat Weekly on our website. Or if you prefer, you can sign up here to receive the newsletter in your inbox every Friday .
In this new year, may you and those you love be blessed with health and hopefulness. Thank you for reading EarthBeat!