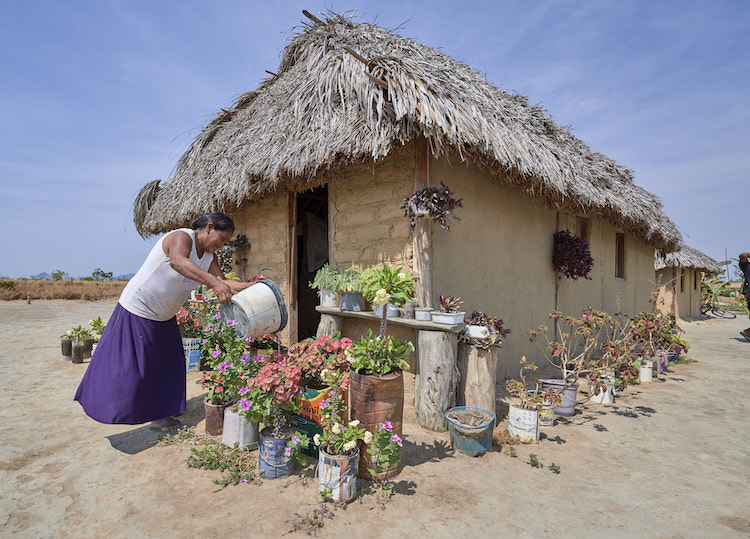 Celestina Fernandes da Silva, a Catholic activist, waters flowers in front of her home in the Wapishana indigenous village of Tabalascada, Brazil, April 3, 2019. (CNS/Paul Jeffrey)
I was only halfway through the full text of Pope Francis' Querida Amazonia ("Beloved Amazon") when I had to shift gears and start editing some of the coverage you've found on the pages of EarthBeat and NCR in recent days. Once done with my editing tasks, I went back to read the full exhortation. At about 14,000 words, it might take you about an hour for a careful read.
I recommend both — the commentary as well as the document itself. But I also realize that all the articles we've thrown at you on the topic can be overwhelming. Here's a quick guide to the coverage, and a glimpse at what one reader (that would be me) is taking away from it all:
Should you delve into all this reaction to Querida Amazonia, you'll be in good company. It turns out that Francis has been reading his own reviews, expressing to visiting U.S. bishops his frustration that people focused so much on issues of celibacy and women deacons at the expense of what's happening in and to the Amazon.
My sense of where all this leaves us? Let's take Francis at his word. Throughout his exhortation, he relies on phrases such as "a way must be found," "efforts must be made," "voices must be raised." For better or worse, it looks like the ball's in our court.
---
Here's some of what else is new on EarthBeat this week:
---
Here's some additional climate-related coverage:
---
Upcoming Event:
March 4-6: The annual Climate Leadership Conference hosted by the Center for Climate and Energy Solutions and The Climate Registry, a meeting focused on "addressing the climate crisis through policy, innovation and business solutions." You'll find more events — virtual as well as in person — on EarthBeat's Event Calendar. Don't forget to post upcoming events that you're involved in!
---
Closing Beat:
One way we keep track of what you like about EarthBeat is by consulting Google Analytics. The numbers tell us our readers have extraordinary interest in the spirituality of creation care. Given the popularity of last Fall's Season of Creation Daily by Peter McLoughlin and the Advent Reflections with Laudato Si' by Arthur Jones, we're planning a similar series for Lent. (More on that next week.) We're also thinking about a short creation care reflection we might send you every other day of the year. If that appeals to you and/or you have suggestions about what you'd like to see in such an email, please let me know at bmitchell@ncronline.org.
We hope you'll forward this week's newsletter to anyone you believe might want to subscribe. They can do so here. And if you'd like to support EarthBeat, please join NCR Forward for as little as five bucks a month.
Thanks for reading!
Bill Mitchell
NCR Climate Editor
bmitchell@ncronline.org