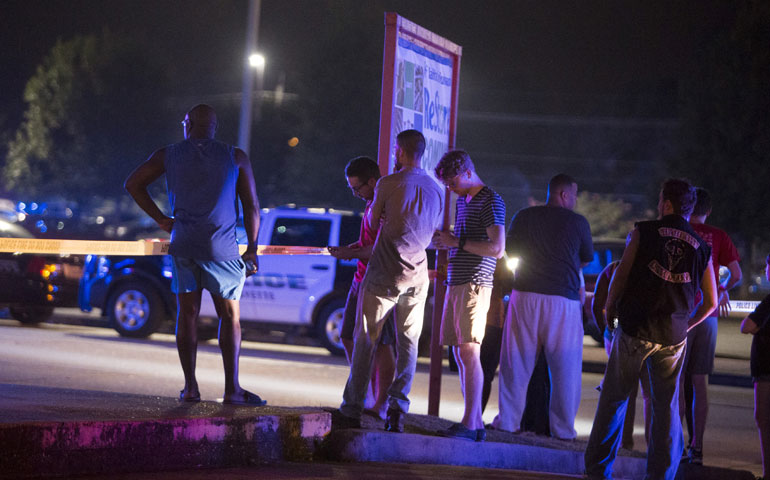 Bystanders watch over the scene at a movie theater where a man opened fire on filmgoers in Lafayette, La., July 23. (Newscom/Reuters/Lee Celano)
Editor's note: Oct. 1's tragedy was the 45th school shooting in 2015 alone. Following is NCR's report on gun violence from the August 14-27, 2015 print issue.
---
From 1982 until 2011, the United States experienced a deadly public mass shooting about every 200 days, Harvard research shows. In the following three-year period, the average escalated to every 64 days.

This summer has done nothing to curb the trend: After nine churchgoers were killed in Charleston, S.C., June 17, a month later, five service members were gunned down in two military centers in Chattanooga, Tenn., July 16. Just six days passed before a gunman opened fire in a movie theater in Lafayette, La., July 23, killing two and wounding nine before turning the gun on himself.

"I've had to make statements like this too many times," President Barack Obama said June 18 following the Charleston shooting -- then his eighth speech on mass shootings in six years. "Communities like this have had to endure tragedies like this too many times."

While such tragedies attract headlines and prompt national debates on gun laws, mass shootings -- most often defined as the killing of at least four people -- account for less than 1 percent of gun-related violence in the U.S. According to the National Institute of Justice, mass shootings account for an average of 35 fatalities a year, while homicides claimed 11,000 lives in 2011 alone.

In a country where guns outnumber people, according to a 2012 Congressional Research Service report, the U.S. murder rate by firearms is about 20 times the average of other high-income countries. Conceding that the Second Amendment grants its citizens the right to bear arms, many blame weak federal gun regulations that allow the wrong hands to acquire weapons far too easily.

Federal law requires background checks only for weapons purchased from a licensed gun dealer, excluding private transactions. Currently, 10 states have a permit-to-purchase system in place, requiring prospective handgun purchasers to obtain a license verifying they passed a background check either through an in-person application process or by applying with local law enforcement.

---
Related: But guns make us safer, right?
---
A 2014 study from the Johns Hopkins Center for Gun Policy and Research, published in the American Journal of Public Health, looked at how gun deaths in two states correlated with the repeal or enactment of permit-to-purchase (PTP) laws. After Missouri repealed its PTP regulations in 2007, it saw a 25 percent increase in homicides by firearm. Bordering states did not experience an increase, and the national murder rate declined 5 percent. Missouri murders not involving guns remained steady.

When Connecticut enacted PTP laws in 1995, over the following decade it experienced a 40 percent reduction in firearm homicides. It also raised the handgun purchasing age from 18 to 21 and required prospective purchasers to complete eight hours of safety training after applying for a permit with local police in person. Murders that did not involve guns did not decrease, nor did murders in similar states without a handgun purchaser licensing requirement.

Such findings caught the attention of Faiths United to Prevent Gun Violence, a coalition of more than 50 national faith groups and organizations that supports a "common-sense agenda" to obstruct violence from firearms. The Rev. Gary Hall, chair of Faiths United and dean of Washington National Cathedral, helped launch the initiative, "Tale of Two States: Handgun Purchaser Licensing Saves Lives," which calls on Congress to implement three pieces of legislation:
Require every gun buyer to pass a criminal background check;
Take military-style assault weapons and high-capacity magazines off the streets;
Make gun trafficking a federal crime.
These regulations do not infringe on individual rights granted by the Second Amendment, Hall explained. When the U.S. Supreme Court established in 2008 the right to bear arms as an absolute principle, he said, it also established Congress' right to regulate that right -- no different than other rights afforded us by the Constitution.

"It's the same as free speech. We have freedom of speech, but we still regulate speech in terms of being unable to libel somebody, incite people to violence, or advocate the overthrow of the government," he said. "We regulate it. People like me think people should have access to guns, but that should be a regulated right."

Conflicting rights

Supporting Faiths United's agenda, Franciscan Sr. Marie Lucey, director of advocacy and member relations for the Franciscan Action Network, agreed that responsible gun ownership in the form of background checks and handgun licensing is often and inaccurately misinterpreted as a threat to one's constitutional liberties.

"I think in this country, we have placed such a value on individual rights as opposed to rights of all, reinforced by the old-frontier-cowboy mentality," she said. "But legislation like what we're trying to call for in no way threatens the Second Amendment."

But the current debate regarding guns is largely steered by those with money at stake. The National Rifle Association not only lobbies against gun control by heavily funding political campaigns -- donating to 261 members of Congress in 2012 -- but also by shifting the focus of the discussion.

"Our current debate about guns is flawed by ideology, mostly on the side of the NRA, which basically takes the position that, nowadays, any kind of gun regulation or expansion of gun laws is just a disguised way of trying to seize guns from law-abiding Americans who have the right to own guns," Craig Whitney, author of Living With Guns: A Liberal's Case for the Second Amendment, told NCR. "A lot of their opposition to gun control is basically ideology, not founded on data or science."

Daniel Webster, who conducted the Johns Hopkins research on PTP licensing, told NCR that the NRA's communications machine is powerful in its ability to convince gun owners that background checks and licensing is the "path by which people are going to take their guns away."

"They know they can't win a debate about background checks or even licensing handgun purchasers, but they can win the debate if they change the discussion to, 'Should the government take your guns away from you?', which of course isn't the point of policy," he said. "And somehow they keep getting away with it."

Hall said preventing gun violence is a public health issue -- no different from adding airbags to cars or addressing the dangers of smoking. He added there's no reason to tolerate "multiple thousands of gun deaths a year that are eminently preventable."

Joan Neal, strategic adviser at NETWORK, a Catholic social justice lobby, agreed with Hall's logic.

"My personal belief is that an individual's right to own a gun ends with my right to live," she said. "We are all entitled to a reasonable expectation of public safety, and if licensing is all it takes to significantly increase public safety, why not do it? After all, we have to have a license to drive a car. Surely taking precautions against more unnecessary loss of life due to gun violence is as important."

Implementing universal background checks, they argue, is the vital first step.

According to a 2013 report by the Center for American Progress, an estimated 40 percent of all gun transfers take place between unlicensed people, which in 2012 resulted in 6.6 million guns being transferred without a background check.

Additionally, a national survey of inmates by the Bureau of Justice Statistics found that nearly 80 percent of those who used a handgun in a crime acquired it in a private transfer, which does not require a background check.

Opinion vs. reality

A 2013 Johns Hopkins public opinion survey found 89 percent of Americans, including 84 percent of gun owners, support requiring background systems for all gun sales; 77 percent of Americans and 59 percent of gun owners supported licensing laws.

Webster and Hall attribute the disparity between public opinion and political realities with how congressional elections are carried out. While comprehensive background checks for handgun sales with a PTP system would be most effective as a federal policy, Webster said our form of government is "tilted to give more power to states with smaller populations than larger populations," making it harder for legislation on consensual gun control to pass.

"Gun violence is more of an urban problem, while in rural communities there's more of a culture that is less kind to regulations of gun sales," he added.

Prosecuting gun trafficking as a federal crime is a precaution supported by Faiths United and those who spoke to NCR. According to the Department of Justice Inspector General, U.S. attorneys decline to prosecute 25 percent of such cases, compared to 9 percent of drug conspiracy cases. Yet 84 percent of guns found in crime scenes throughout New York City were originally purchased out of state, illegally making their way into the city.

The Johns Hopkins study showed similar results in Missouri. Following the state's repeal of PTP laws, the number of guns sold in Missouri and later recovered by police in Illinois and Iowa -- two bordering states with purchaser licensing laws -- increased 37 percent between 2006 and 2012, while the overall number of crime guns recovered by police in those states declined by 6 percent.

Whitney said the government should prosecute people who transfer guns illegally much more strongly than it does now. But he cautions against making guns too hard to obtain.

"You want to make it tougher for criminals and tougher on criminals when they're found with guns illegally and vigorously prosecute crimes committed with guns," he said. "That's the best way to go after it. ... Keeping someone like me from having a gun does nothing to control the street violence by criminals."

While Faiths United calls for a ban on assault rifles, Whitney said such efforts distract from the real problem. The National Institute of Justice noted that assault weapons are used in just 2 to 8 percent of crimes, while the vast majority of firearm crimes involve handguns. And with 1.5 million assault weapons already in circulation, Whitney said this focus makes it easier for the NRA to claim the potential for governmental appropriation of personal weapons.

"Criminals don't come out with assault rifles and shoot each other on the streets in New York City or Chicago," he said. "They're using handguns, pistols, revolvers, .45s. Those are the weapons behind most of the gun violence we read about. By focusing on assault rifles, liberals make it easier for the NRA to say, 'See, all they want to do is take your guns away.' "

The real problem, he said, is how to get law enforcement and regulations more effective in keeping guns out of the hands of people everybody agrees shouldn't have them, namely criminals and violent or mentally ill people. Whitney noted that the Charleston shooting involved a handgun sale that an efficient background check would have prevented.

[Soli Salgado is an NCR Bertelsen intern. Her email address is ssalgado@ncronline.org. Follow her on Twitter @soli_salgado.]
A version of this story appeared in the August 14-27, 2015 print issue under the headline: Effort aims to curb gun deaths.