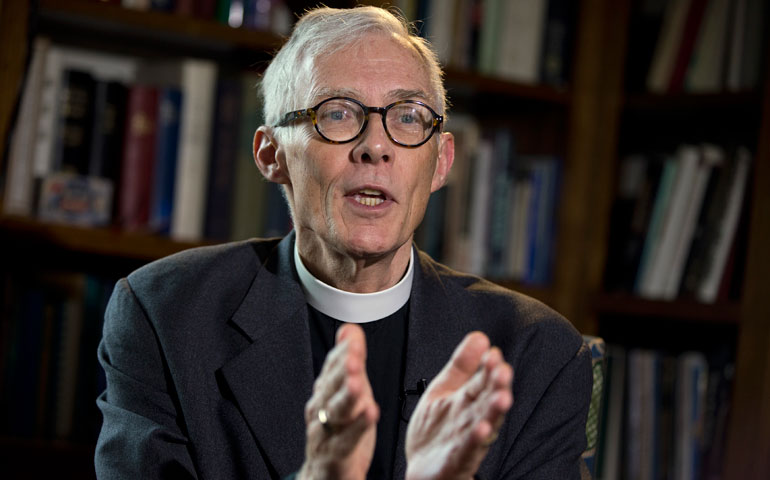 The Rev. Gary Hall (AP/Evan Vucci)
The "guns save lives" mantra isn't only touted by the National Rifle Association. Following the Charleston shooting, an Ann Arbor, Mich., priest hosted classes in his parish for people seeking licenses for concealed pistols. In a letter to his congregation, Fr. Edward Fride wrote that he thinks it is "perfectly appropriate for the parish to offer this class, because the protection of our families and our kids is of paramount importance to us."

He noted that local police often tell him that it would be easier on their jobs if citizens would arm themselves for protection. "If we are adequately protected, fear need not be the reality," Fride wrote.

But numbers don't favor the argument: According to the Bureau of Justice Statistics, less than a third of burglaries occur when someone is home, and in the 7 percent of burglaries when violence does occur, the burglar is more likely to be a relative, intimate or acquaintance than a stranger.

---
Related: Effort aims to curb gun deaths
---
Merely dialing 911 also proved to be safer than arming oneself, as the National Crime Victimization Surveys found that threatening with a gun nearly triples the likelihood of getting injured, as opposed to just calling the police.
Studies also show that more guns equate with more suicides, homicides and accidental deaths. One study comparing the number of abused women who survived with those who died found that 51 percent of those killed had a gun in the house (as more than a third of U.S. homes contain a gun).
When compared to other developed countries where gun ownership is far less common, American children between ages 5 and 14 are 11 times more likely to be killed with a gun. And more than half of suicides are committed with firearms, a means that is often argued to encourage impulsiveness: One study showed that more than half of survivors who attempted to kill themselves with a gun reported that those suicidal thoughts lasted less than 24 hours.

In his letter to his parish, Fride said that it's a matter of choosing the lesser evil.

"Several people have said to me, 'I'm afraid of guns.' My response to one woman was, 'Well, how do you feel about rape?' While that may seem extreme, when we choose against one option, we do, in a sense, empower the other."

Franciscan Sr. Marie Lucey of Franciscan Action Network said such a notion -- that people need guns for safety -- is just one effective strategy employed by the NRA to promote guns. And it works: One gun manufacturer reported a 52 percent increase in earnings the year following the Sandy Hook school massacre in Newtown, Conn., which claimed the lives of 20 children and six staff members Dec. 14, 2012.

"The fear factor, the misconception that it's a violation of the Second Amendment and the money given to legislators by the NRA, corporations and gun manufacturers -- all these combine to override the common-sense factor," Lucey said.

While public opinion overwhelmingly supports such regulations, the political climate in Washington is "not one where we're going to have a real argument about gun violence anytime soon in Congress," said the Rev. Gary Hall, chair of Faiths United to Prevent Gun Violence and dean of Washington National Cathedral, adding that the public needs to make that conversation happen.

Whether this is a moral or political issue, however, adds to the debate's contentiousness. Lucey and others agreed that responding to gun violence is a moral imperative, as it threatens the right to life.

"We say how highly we value life, so on the one hand, we try to do everything to save life from disease and try to protect life," Lucey said. "And on the other hand, we don't take action to try to protect life from gun violence."

Hall added that even though eliminating all gun violence isn't a feasible goal, there's a moral obligation to do everything possible to save the lives we can.

"Those who really favor gun violence protection need to get organized and be as present in the political process as the NRA is," Hall said. "The problem is that progressive people care about this issue when there is a tragedy -- like Charleston, Newtown or Aurora [where multiple assault weapons were fired on Colorado moviegoers, killing 12 and injuring 70 on July 20, 2012]. They don't care about it between tragedies at the same level that the NRA people care about it all the time."

The Ann Arbor priest canceled the concealed pistol license classes in his parish on the instructions of Lansing Bishop Earl Boyea. Boyea issued a statement saying, "Such classes are not appropriate for church property," and that diocesan schools and churches are gun-free zones.
[Soli Salgado is an NCR Bertelsen intern. Her email address is ssalgado@ncronline.org. Follow her on Twitter @soli_salgado.]
A version of this story appeared in the August 14-27, 2015 print issue under the headline: But guns make us safer, right?.