A version of this story appeared in the July 31-Aug 13, 2015 print issue under the headline: Race and 'a very white movement'.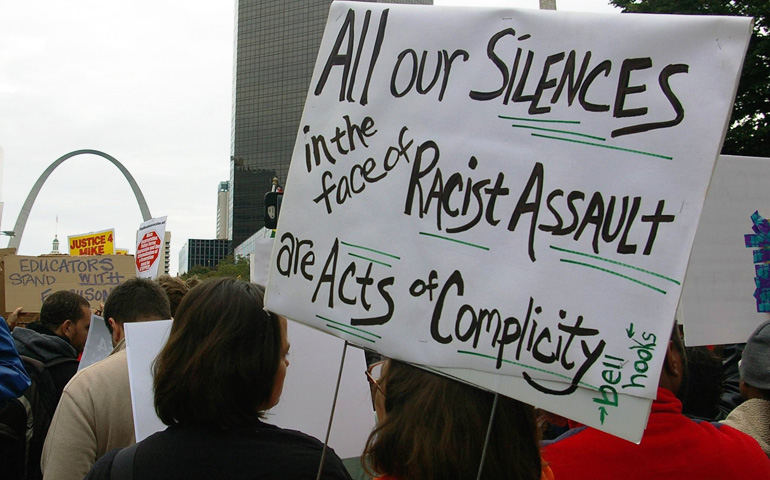 Jenny Truax, a member of St. Louis' Karen House Catholic Worker community, holes a sign surrounded by fellow Catholic Workers at an Oct. 11 march in St. Louis. (Courtesy of Karen House Catholic Worker)
When Lincoln Rice joined the Catholic Worker movement about 20 years ago in Milwaukee, his experience, in one sense, was basically the same as someone who joined 20 years before him: a white person joining a white movement, as he describes it.
Dedicated to social justice work, the Catholic Worker -- co-founded by Dorothy Day in 1933 -- is a collection of more than 200 communities throughout the U.S., all of which vary in their work to combat poverty, environmental degradation, and war, among other social ills.
But while the movement is highly critical of the country's economic culture, it largely fails to act on the connection between poverty and racism, says Rice, who wrote Healing the Racial Divide: A Catholic Racial Justice Framework Inspired by Dr. Arthur Falls.
Catholic Worker already has the tools and theology that would allow it to address racial justice, he said, but "in its history, it lacks passion" for this cause.
"For reasons often having to do with the fact that [the Catholic Worker is] a very white movement, it very rarely applies the same notions of social responsibility and love for your neighbor to race the same way the Catholic Worker applies those notions to war and economics," Rice said.
He added that this critique is not unique to the Catholic Worker, but is applicable to most Catholic organizations, theologians, religious and laity.