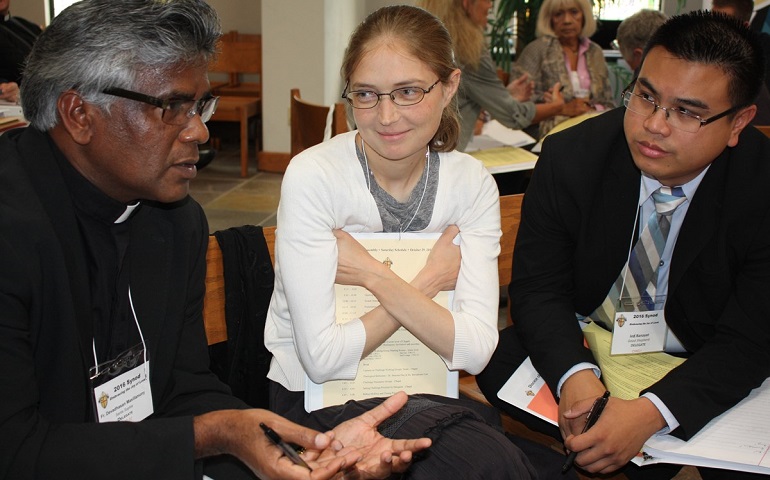 Delegates take part in a discussion during the San Diego diocese's synod focused on marriage and family life. (Courtesy of the San Diego diocese)
San Diego — November 2, 2016
After the culminating weekend of the San Diego diocese's groundbreaking synod on Amoris Laetitia — focused on marriage and family life — Bishop Robert McElroy is eagerly looking forward to the next one, which will focus on young adults.
"I do believe that is the great pastoral crisis and challenge of the church in the United States at the present time," McElroy told NCR. "If we cannot solve that, then our church is going to be much crippled and diminished."
Patrick Rivera, director of the diocese's yearlong Young Adult Task Force, and a facilitator at the Oct 29-30 synod, couldn't agree more.
"This synod has, without any reservation, put young adult ministry at the forefront of the diocese of San Diego's ministry initiatives through the plans set into action by Bishop McElroy," he said.
McElroy stressed the urgency of the situation.
"What weighs very heavily on my mind is always the young adult community," he said. "Because they're not in the parking lot, they're not just outside the parking lot. And if you look at them, they are so different in perceptions on every level. It just illustrates the challenge we have to bring the Gospel effectively to young adults."
Discussing "trust issues" — the lack of trust that parish and diocesan leaders of older generations have in young adults — Rivera explained, "These are not juveniles lacking empathy or a desire to know the church. These are adults."

Bishop Robert McElroy speaks to NCR about challenges facing the San Diego diocese as they focus their next synod on Catholic young adults. (Video by Dan and Amy Morris-Young)
"Rules without relationship breeds rebellion," he added. "We have a church lacking relationship, and within that lacking, it has only offered young adults a reason to rebel against another 'top down' form of authority."
Rivera emphasized that "young adulthood is an over 20-year span of life," encompassing "four stages ... transitional (post-high school to college-aged), single, married and parenting."
Yet, he said, to date the diocese has tended to only "focus extensive amounts of time and effort on very short term, with the exception of faith formation K-10 ministry efforts."
Fr. John Dolan, vicar for the clergy and pastor of two San Diego parishes, verified that status.
"There are two different forms of doing church," he said. "One is very dialogical, from a dialogical sense, and the other is from a monological sense. And we have dealt with that monological world: Things come from on high, they get shelved in some pastor's corner, then there's some thought that comes down, but ultimately it's all 'We're going to tell you what to think.' "
Dolan, whose two parishes overlap the Hillcrest area — understood to be the lesbian, gay, transgender and bisexual center of the city of San Diego — added that the lack of attention to that population at the current synod was "the elephant in the room."
"Young adults have an acceptance of the LGBT experience. It is simply a part of their world, and they look at us, and say, 'What is the problem?' " Dolan said.
Rivera identifies young adults as being between the ages of 18 and 38. The diocese estimated the average age of participants in the current synod to be 43.
Only one of the five synod working groups specified outreach to the LGBT community. Working Group V — assigned the "challenge to bring depth to family life" — proposed that the diocese "create a diocesan office for family spirituality," which would "develop resources for parishes to minister to families (i.e., divorced, single-parent, widowed, deployed, deported, special needs, multigenerational households, LGBT)."
"There were a number of surprises, but ... a great surprise to me was where the LGBT question would come up," McElroy told NCR. "In the five issue areas I had laid out, evolving from Amoris Laetitia, it wasn't easy to see where it properly falls in. It doesn't exactly fall into marriage, and it doesn't exactly fall into children, although certainly how you deal with that [gay and lesbian] question with kids is very important, and young adults and teenagers."
He continued, "But where it came up, which is so interesting to me, it came up in the spirituality of marriage."
The working groups' "number one thing was ... don't call [it] your Office of Marriage and Family Life, call it the Office of Family Spirituality."
"And they had a pyramid ... which was a very inclusive notion of what family means. And they said, 'This is not a sociological declaration ... our Catholic spirituality of family says family for us includes this.' People who are gay or lesbian or transgender or bisexual, whatever ... they're part of our own families, this is part of what family life means," McElroy said.
Emily Reimer-Barry, chair of theology and religious studies at the Catholic University of San Diego, and a theologian involved with the current synod, spoke to that question of sociology.
"The group of delegates was handpicked by the pastors," she said. "While this is a representative group somewhat socially of the cultures in our diocese, let's say that it is not totally accurate sociologically."
Reimer-Barry cited the "tension" existent because of this disparity. While she is "delighted to witness this process and participate" in the synod, she said, "the church has this body of teaching about marriage, this commitment to marriage. So many people in our world perceive those teachings as limiting, judgmental, and they feel excluded from being able to experience the fullness of grace."
Reimer-Barry agreed that at present, the LGBT community and specifically those in same-sex marriages are substantially excluded. But she said she felt inspired by McElroy's opening homily, in which "he looked at the story of Mary and Joseph in Matthew's Gospel as refugees who were looking for safety. Judgmentalism must be banished. The church is not for the pure, but for all."
"Divorced, married civilly, a member of family being deported," Reimer-Barry continued. "So many instances of families hurting in our context. Just reiterating church sayings is not enough. Focusing on the church as a field hospital and mercy, from Pope Francis' recent exhortation, is just a really provocative way to think about being the church here in San Diego."
Holy Child Sr. Tobie Tondi, also on the faculty of University of San Diego and also assisting as a theologian in the current synod, agreed.
"Pope Francis' document is incredibly fresh and new and eye-opening, and there's a lot of education that's needed to understand the direction that he is seeing for the church," she said.
She added that she is "hopeful ... that there will be an even greater outreach to people who feel alienated from the church, whether it's divorced people, or people who might be in same-sex relationships, or cohabitation, people who are living together."
"San Diego is a very interesting place to live," Tondi said. "It's got diversity like I've never experienced anywhere else. Cultural diversity, specifically, but then also a huge military complex, right on the border, so deportation and split families, and trying to seek asylum and all is very much a part of our world. It's at the same time a rich community to belong to, but it's complex. I mean, one size does not fit all, for sure, here."
Expressing enthusiasm about the synod "on young adults next time around," Tondi said, "It would be logical for [McElroy] to use something similar to do this. I can't imagine that anything less than real ownership is going to happen with whatever new programs emerge."
Rivera agreed. "Priests and parish leadership understand that they are missing young adults in their pews and within their parish leadership roles," he said. "But if they knew that a young adult merely needs an invitation, and a truly welcoming one at that."
Rivera believes only then will there be "an ownership from that sincerity, and that ownership of said role would lead to a deeper level of conviction as well as a testimony to what vibrant young adults look like on the parish level."
To achieve that outreach, and inclusion, Rivera said the diocese needs to improve its use of social media — "the single greatest form of connectivity between Generation X and millennials, not to mention the rise of the 'nones,' too, who are the newest young adults."
The diocese needs to hire "one or two more employees" in his Young Adult Ministry office, he added, "to help me implement this process. As of now, we are in a premature stage."
McElroy called the synod process "an avenue of lay consultation that's substantive and focused, and that's where it's most appealing to me. It seems to me as an instrument in the life of the church, it has this going for it, which is quite substantial."
"That's why, assuming the implementation step goes well, I think it does give us a good model of how to do this every couple of years on a different topic," the bishop added. "And I'd love to do it on the young adult thing next."
This story was updated 3:30 p.m. CT, Nov. 3, to include video.
[Amy Morris-Young graduated from and taught writing at Loyola Marymount University in Los Angeles. NCR West Coast correspondent Dan Morris-Young contributed to this report.]