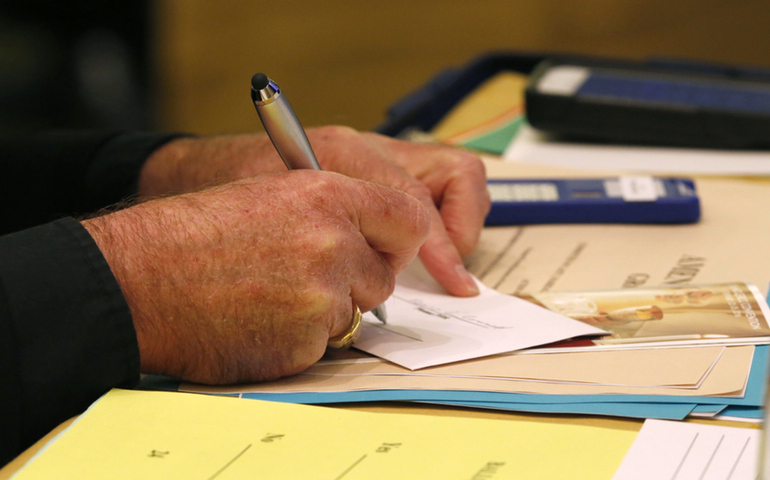 A bishop casts his vote during the 2015 fall general assembly of the U.S. Conference of Catholic Bishops in Baltimore. Bishops are scheduled to elect the next president and vice president at their upcoming assembly Nov. 14-16 in Baltimore. (CNS/Bob Roller)
At their annual fall gathering in Baltimore Nov. 14-16, the U.S. bishops are to elect new leadership of the U.S. Conference of Catholic Bishops and observers are watching to see if the winners signal greater or lesser adherence to the agenda of Pope Francis.
The slate for president and vice president is:
Archbishop Gregory Aymond of New Orleans, who turns 67 Nov. 12;
Archbishop Charles Chaput of Philadelphia, 72;
Archbishop Paul Coakley of Oklahoma City, 61;
Cardinal Daniel DiNardo of Galveston-Houston, 67;
Bishop Daniel Flores of Brownsville, Texas, 55;
Archbishop José Gomez of Los Angeles, 64;
Archbishop William Lori of Baltimore, 65;
Archbishop Allen Vigneron of Detroit, 68;
Archbishop Thomas Wenski of Miami, 66;
Archbishop John Wester of Santa Fe, N.M., who turns 66 Nov. 5.
The president and vice president are elected to three-year terms. Archbishop Joseph Kurtz of Louisville, Ky., will step down as president at the end of the fall assembly. A simple majority vote elects a president, which traditionally has been the sitting vice president; this year that would be DiNardo. The vice president then is elected from the remaining nine candidates.
Church historian Massimo Faggioli looks at the slate of candidates and sees "a clear split" with "two kinds of bishops."
On the one hand, Faggioli told NCR, there are bishops, "like DiNardo and Chaput … they express a clear cultural-warrior approach. You have on the other side those who clearly represent the church of Francis, like [Bishop Robert] McElroy [of San Diego] and the bishop of Santa Fe."
"Whoever is elected … it will send a clear message: This is an episcopate that is sticking to its old playbook or is deciding for dramatic change," said Faggioli, a professor in religious studies at Villanova University. He added that he thinks a dramatic change "is very unlikely."
John Gehring, a former bishops' conference staffer and now Catholic program director at the Washington-based advocacy group Faith in Public Life, sees a conference "still wrestling with what the Francis era means for the leadership of the church in the United States."
"There are bishops who recognize the pope's pastoral approach and priorities are exactly what's needed to begin recalibrating the church's voice in the public square," said Gehring, whose book, The Francis Effect, was released last year. "Other bishops seem more comfortable doubling down on an approach that hasn't been successful at inspiring people."
During the meeting, the bishops will also vote for new chairmen of five committees:
Ecumenical and Interreligious Affairs: Bishop Joseph Bambera of Scranton, Pa., 60, and Bishop Michael Barber of Oakland, Calif., 62.
Evangelization and Catechesis: Auxiliary Bishop Robert Barron of Los Angeles, who turns 61 Nov. 19, and Bishop Frank Caggiano of Bridgeport, Conn., 57.
International Justice and Peace: McElroy, 62, and Archbishop Timothy Broglio of the Archdiocese for the Military Services, 64.
Canonical Affairs and Church Governance: Bishop Robert Deeley of Portland, Maine, 70, and Bishop David Malloy of Rockford, Ill., 60;
Protection of Children and Young People: Bishop Timothy Doherty of Lafayette, Ind., 66, and Bishop Joseph Tyson of Yakima, Wash., 59.
Faggioli says that the struggle inside the U.S. bishops' conference is playing out in national conferences around the world. He sees a similar struggle, for example, in the Italian bishops' conference.
When it comes to choosing leaders, he said, "you don't have a big pool to choose from. You have the old generation, the cultural warriors, or you have the Francis' bishops."
"It is important to remember that DiNardo was one of those 13 cardinals who signed a letter given to Pope Francis at the synod last year about the handling of the synod. That is on his record."
Faggioli added that it was also DiNardo who, at the U.S. bishops' meeting last year, said the conference could not update its biannual statement on Catholics and electoral participation, a document known as "Faithful Citizenship," because, DiNardo said, "Ours is a hermeneutic of continuity."
"I think that puts him squarely on the side of those who don't exactly think that Francis is doing something good for the church," Faggioli told NCR. "I am not against diversity in the church; I am just saying that if you elect one bishop or another to lead the bishops' conference, you expect very different things from them."
Gehring agreed, but he also sees some risks. "Some of this tension within the conference is natural and healthy, Gehring said. "But bridging these real divides is going to be something the next president of the conference has to tackle."
At risk, he added, is "reducing the church's broad commitment to life and dignity to a handful of contentious issues. Some of this tension within the conference is natural and healthy."
Faggioli also said that the nature of the bishops' conference is changing too. Members "used to work much more together. Now they don't … [today] they rely more on the symbolic role of their leaders and they [the elected leadership] become spokesmen for an episcopate that doesn't work together."
"The church is struggling to understand not just what kind of bishops it needs, but who can do this very difficult job of being a bishop. You have a pool that is going to be redefined by this pontificate, but you don't have that many priests who clearly fit the profile of the bishop for the 21st century. This is a global issue, I think."
Francis, he said, has created "a radically new job description for bishops," which is decidedly against an elite clericalism and characterized by the idea of accompanying the people.
In a number of addresses to papal nuncios, his representatives who help vet bishop-candidates, Francis has described the character of his ideal candidate: He wants pastors who are "close to the people." They should be "gentle, patient and merciful; animated by inner poverty, the freedom of the Lord and also by outward simplicity and austerity of life." They should "not have the psychology of 'princes.' "
Finding candidates that fit that description, Faggioli said, can be difficult. "Francis has to fish for these candidates" and often "they come from unlikely groups, like prison ministries. [Francis] isn't appointing [as bishops] many rectors of seminaries, for example."
[Dennis Coday is NCR editor.]
---
Related, US Bishops Meeting in Baltimore::
US bishops' conference to vote on new leadership
In response to Trump, Vatican official says church should be prophetic
Previewing the USCCB meeting: the good the conference achieves By Michael Sean Winters
Trump's election: What it means for the USCCB and the Church By Michael Sean Winters
A Francis agenda for the US bishops By Fr. Tom Reese SJ
Previewing the USCCB meeting: Will there be a new direction? By Michael Sean Winters
Read all of NCR reporting about the Fall 2016 meeting here.
---