Demonstrators join the People's Climate March in Washington in April 2017. A new poll shows people willing to install solar panels and drive less, but less inclined to pay more for utilities or accept higher taxes to address climate change. (CNS photo/Mike Theiler, Reuters)
Editor's Note: EarthBeat Weekly is your weekly newsletter about faith and climate change. Below is the April 30 edition. To receive EarthBeat Weekly in your inbox, sign up here.
In these times of upheaval, when a pandemic, political changes and economic uncertainty are converging in much of the world, a new CBS poll shows that turning concern about climate change into action remains a challenge.
The survey teases apart some of those attitudes in the U.S. For example, it finds that people are willing to sacrifice, but only up to a point, and that many views break down along ideological lines.
Among four priority issues — the economy, the coronavirus pandemic, immigration and climate change — most people (68%) rank the economy at the top, followed by the pandemic (65%) and immigration (54%). Less than half (46%) place high priority on climate change, a finding similar to those of pre-election polls.
Nevertheless, slightly more than half of adults in the U.S. — 56% — think climate change should be addressed "right now," and nearly as many, 53%, approve of the way President Joe Biden is handling the issue, according to the poll.
CBS conducted the survey between April 13 and 16, and it has a margin of error of plus or minus 2.8 percentage points. CBS, like EarthBeat, is a partner in the Covering Climate Now consortium.
While the conviction that climate change is urgent is fairly consistent across age groups, more women (63%) than men (49%) feel strongly about it, as do more Black respondents (68%). The opinion that it doesn't need to be addressed at all is strongest among conservatives (46%), although more than 25% of people over age 45 also share that view.
So how should we respond to climate change?
Overall, 58% of those polled said we should try to do things to shape and change the situation, while 42% said we should learn to adapt and make the best of it. The "shape and change" attitude was fairly consistent among age groups, but far higher among people who identified as liberal (77%) or moderate (65%) than conservative (35%).
What are people willing to do? That's a bit more complicated.
Nearly two-thirds said they'd install solar panels. Slightly fewer (57%) were willing to drive less, though only 42% said they would use public transit. Pandemic lockdowns might have skewed our sense of the need to drive, and only time will tell if teleworking reduces vehicle use in the long term.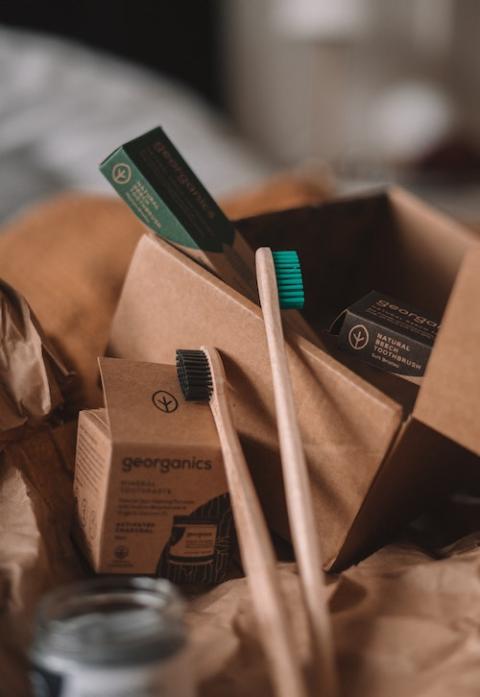 While people say they'd buy "eco-friendly" products, studies show most are reluctant to pay more. (Toa Heftiba/Unsplash)
But only about one-third of respondents were willing to pay more for utilities or accept higher taxes. And the poll did not include any questions about reducing consumption (except for meat — just 30% said they would be willing to stop eating it) or paying more for products and services to cover their true environmental and social costs.
That's the elephant in the room. The environmental cost of many products — like a wedding ring made of gold that came from an unregulated mine carved out of an Amazonian forest, or crackers made with palm oil from an Indonesian island where forest was razed for a plantation — is generally invisible to the buyer in a faraway country.
And although as many as seven out of 10 people say they would buy environmentally friendly products, only a small percentage of consumers actually do "buy green."
An analysis of various studies of consumer behavior indicates that the reasons generally are high price, low availability and skepticism about "eco-friendly" labeling — pointing to a need for behavior changes on the part of manufacturers, as well as consumers, the authors say.
But Americans are skeptical about more than just green labeling, according to the CBS poll. Many question the motives of those who advocate for action on climate change.
While two-thirds think such groups are driven by a desire to preserve the environment, nearly as many believe they are trying to protect their own business interests in alternative energy sources. And nearly half (47%) say those groups are really out to destroy the fossil fuel industry.
So what's the lesson here for people of faith?
Brian H. Smith, professor emeritus of religion at Ripon College in Wisconsin, notes that while leaders of the major faiths have issued strong statements on climate and the environment — including, of course, Pope Francis' 2015 encyclical "Laudato Si', on Care for Our Common Home" — their followers haven't necessarily put those messages into action.
In a commentary on EarthBeat this week, he suggests that faith leaders could be doing more to motivate people of faith to act on climate issues, and he offers some suggestions. They include speaking out about climate change as a pro-life issue, making sure people know about the related documents from their faith traditions, and finding ways to connect with young adults who are concerned about environmental issues but unlikely to be in the pews.
I invite you to give Smith's commentary a close read and then tell us: Is the leader of your diocese or faith community rising to this challenge? What steps would you like them to take? Drop us a line at earthbeat@ncronline.org, and we'll share your thoughts.
---
Here's what else is new on EarthBeat this week:
Here's some of what's new in other climate news:
---
Upcoming events:
As part of a process to help the Canadian Catholic community make decisions about its investments, on May 5 at 1:30 p.m. Eastern Time, the Canadian Chapter of the Global Catholic Climate Movement will hold the third of four sessions of a virtual forum on the Catholic eco-investment accelerator. The theme will be "Indigenous and Impact Investment."
You can find more information about this and other coming events on the EarthBeat Events page.
---
Closing beat:
If you find EarthBeat's coverage of climate and faith interesting, inspiring or useful, please consider supporting NCR during our Spring Fund Drive, which began this week, or becoming an NCR Forward member.
And please feel free to pass along to others the link to EarthBeat Weekly on our website. Or if you prefer, you can sign up here to receive the newsletter in your inbox every Friday. Thank you for reading EarthBeat!