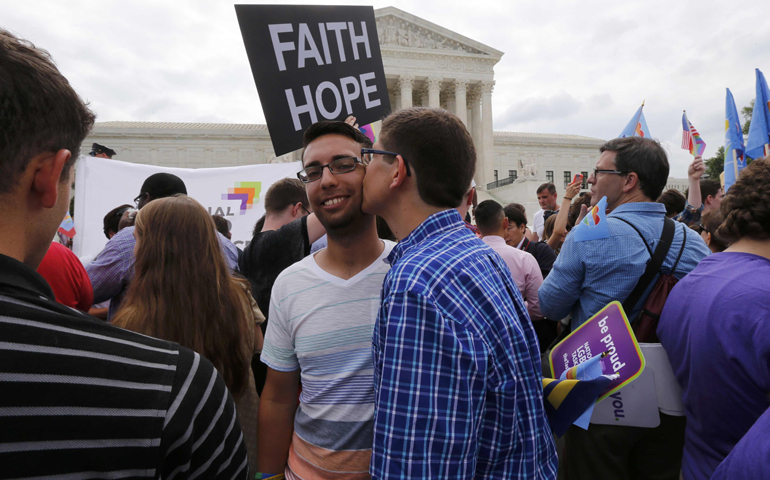 Gay rights supporters celebrate in Washington D.C., June 26, 2015, after the U.S. Supreme Court ruled that the Constitution gives same-sex couples the right to marry. (CNS/Reuters/Jim Bourg)
Pope Francis may be calling for a decentralized church, but it is clear from the reaction to his latest document that the buck still stops at the top. Amoris Laetitia, after all, is titled an "exhortation of the Holy Father," and he is the sole recipient of the praise, the hope, the disappointment, the anger (and any trace of ambivalence one might encounter) that the document inspires.
Gauging from a nonscientific sampling of theologians, pastoral practitioners, academics, clerics, nuns, men, women, married and single, it is easy to conclude that a broad middle exists in the reaction to Francis' exhortation, with a great deal of goodwill and encouragement taken from the document. In many instances, people welcomed a distinct change in tone and pastoral direction from papal documents of the recent past.
The greatest disappointment and the most severe critique came either from the far right, among those who feel the pope is somehow compromising true Catholicism with his encouragement of tolerance and mercy, or on the other side of the spectrum, from those who feel the document does little to move the needle in practical ways for the divorced and remarried and for those advocating for greater acceptance of gays in the church.
Jana Bennett, associate professor in the religious studies department at the University of Dayton and a wife and mother of three small children, was captivated by the colloquial tone of the document.
"There were times when I was reading where the tone is like he was in the room with me," she said. Chapter 4 was "amazing" and "the most beautiful" and one that she hopes to read together with her husband, Joel.
On the academic side, she said she plans to incorporate the document in an upcoming lesson in her marriage and family class. Her one concern is how elements of the document will be received by millennials who, for instance, have no problem with same-sex marriage and question the church's prohibition.
"They just took the Supreme Court ruling in stride and said, 'This is the way things are, so there is no real question here,' " said Bennett.
Peg Ekerdt plans to use the text in a different educational setting. She is pastoral associate at Visitation Church in Kansas City, Mo., and works in marriage preparation, annulment work and pastoral care. "What stands out for me initially is that I think the document acknowledges the complexity of life that surfaces in pastoral situations that do not always fit neatly into categories," she said.
---
More: All of NCRonline.org's coverage on the apostolic exhortation
---
Francis, she said, "opens the door to conversation about internal forum and he doesn't do that lightly. He stresses that a well-formed conscience is essential, but I think he allows our priests the possibility of having those conversations and encouraging people when appropriate."
She intends to use the texts in helping married couples and in a sacramental class she teaches with engaged couples. "It's a great communication tool."
Fr. Michael Ryan, pastor of St. James Cathedral in Seattle for the past 28 years, wasted no time incorporating the text into the life of the parish. He preached on the text the Sunday after it was released "and I didn't get one negative," he said. "I got an outpouring of comments I have never received before."
While acknowledging that "there must be a backlash" from people who disagree with Francis' approach, Ryan said he hasn't yet heard from them.
The pope, Ryan said, "is trying to open doors, not to dole out cheap grace. I think he is trying to lead people to deeper grace in their own lives by prayerfully trying to understand where they are in their relationship with God and what God is calling them to."
Ryan, who at times has been a high-profile voice of reform in the church, said, "I never thought I would live to see this day. I'm deeply grateful. We have not arrived at the promised land, and this is a step in the right direction, maybe even a leap."
---
More: 'Amoris Laetitia,' Francis' pontificate are not 'business as usual,' says Seattle priest
---
The text was barely a baby step in the estimation of Loretto Sr. Jeannine Gramick, co-founder of New Ways Ministry, a group that advocates for lesbian, gay, bisexual and transgender rights and place in the church. She said in an email that she was "extremely disappointed in the bland remarks" referring to homosexual persons.
The document's instructions about treating homosexual persons with respect and dignity and avoiding "every sign of unjust discrimination" is a repetition of previous similar calls "without giving examples of what that discrimination entails. LGBT people are shunned, fired from their jobs, bullied, jailed, executed and assassinated," she said.
"The document shows no understanding of gender identity, and of the pain parents feel when their child says they want to die because they are in the wrong body," Gramick said. "Society once thought that homosexuality was a choice; now we know that the orientation is not a choice, but a discovery that one makes about oneself. So, too, with gender identity. The person comes to discover that their body does not match who they really are inside. The person must follow the inner promptings of the heart."
A similar opinion was voiced by feminist theologian Mary Hunt. The co-founder of Women's Alliance for Theology, Ethics and Ritual, Hunt led her detailed analysis in Religion Dispatches by saying that Amoris Laetitia "leaves much to be desired -- pun intended."
"If you are heterosexual, married, divorced, and remarried with an understanding parish priest, you have reason to be hopeful that your 'irregular situation' can be fixed," she said. "If you use most forms of effective birth control, have an abortion, or are a sexually active LGBTIQ Catholic, you might as well read Dante and/or seek another denomination if you expect to be treated with equality, dignity, and respect.
"The 'Joy Love Club,' " she wrote, "is members-only."
---
More: Pope offers compelling vision of love
---
The lack of doctrinal temblors aside, Congregation of Notre Dame Sr. Susan Kidd thinks the tone and content of the document is "very much in keeping with the way Francis is addressing many issues. He's able to stick to the party line and yet put a lens on it that is very compassionate. I think it goes very well with his Year of Mercy."
Kidd is campus minister at the secular University of Prince Edward Island in Charlottetown, Canada, and interacts with students from a variety of backgrounds and with widely varying definitions of the word "family." She said she appreciates that the reflection puts the onus on clergy to "have their own compassionate pastoral affairs in order," adding that compassion can't be taught in a seminary course. Rather, she said, compassion comes from experience in shepherding a diverse flock.
Three things stood out most to John Grabowski, associate professor of moral theology and ethics at The Catholic University of America: the amount Francis draws upon the work of the synods, the incorporation of the teachings of his immediate predecessors on the area of marriage and family, and the focus on accompaniment and discernment.
"It's very obvious he listened very deeply to the bishops who were there," said Grabowski, who was also present at the Synod of Bishops last fall. "Previous popes have written apostolic exhortations to synods, but not to this extent. This is a very, very deep engagement."
The pope wants "pastors who are out there rubbing elbows with the people they pastor, spending time with families, especially poor families, sharing time and meals with them," said Grabowski.
But the document only touched briefly on important issues like women's roles in the church and same-sex marriage, he said.
"Those were part of synod discussion, but the sense was these deserve their own synod," Grabowski said. "Obviously, there is more that could be said or should be said, but to spend more time on those really important issues would have distracted what focus there is in the document."
Deborah Rose-Milavec, executive director at FutureChurch, is torn between conflicting perceptions of the document. The right side of her brain, she said, knows there is always room for improvement — particularly furthering women's role in the church — while the left side of her brain says this is an important step in the right direction.
"What stands out most for us is the fact that this document brings to the front and center the notion of conscience on all discussions for every single Catholic in the church," a notion that will have a "very long-term and powerful, positive impact on the church," she said.
Rose-Milavec said that while Francis doesn't give any specific pathways in which to open doors to more people, "he did create a pathway that there is this internal forum" — a private process in which a priest can help remarried Catholics take steps toward fuller participation in church life.
She said Amoris Laetitia breaks down walls built for years around the altars to exclude people. "Conscience is primary, accompaniment is primary, not judging is primary."
She was encouraged by Francis' opposition to those who have blamed society's problems on women's emancipation, underscoring his words that this argument "is not valid." But the right side of her brain still says one thing: It's not enough.
"This notion of feminine genius is still rooted in some ways that I think are a rewrite of the old subordination," Rose-Milavec said, calling it "a new marketing of a very old, bad idea."
While the reception of the document by the U.S. Conference of Catholic Bishops as an organization and by individual bishops has been positive and enthusiastic, detractors within the institution have been quite explicit in their criticism.
Cardinal Raymond Burke, demoted by the pope from his perch atop the Apostolic Signatura (the Vatican's highest court) to chaplain for the Knights of Malta, downplayed the document's significance in a piece for the National Catholic Register. He said the document does not represent a magisterial teaching.
The pope, Burke said, "is proposing what he personally believes is the will of Christ for His Church, but he does not intend to impose his point of view, nor to condemn those who insist on what he calls 'a more rigorous pastoral care.' "
Ed Peters, a canon law professor at Sacred Heart Seminary in the Detroit archdiocese, announced on his blog that Francis "is not a systematic thinker."
"Readers who are put off by more-than-occasional resort to platitudes, caricatures of competing points of view, and self-quotation simply have to accept that this is how Francis communicates," Peters wrote.
But it is Francis' language that Lydia Pesina appreciates. The director of the family life office for the diocese of Brownsville, Texas, pointed to Chapter 4 and the pope's description of the impossible struggle of attaining an ideal marriage: "There is no need to lay upon two limited persons the tremendous burden of having to reproduce perfectly the union existing between Christ and his Church, for marriage as a sign entails 'a dynamic process …, one which advances gradually with the progressive integration of the gifts of God,' " Francis writes in Amoris Laetitia, quoting Pope John Paul II.
That mirroring of the ideal of Christ's union with his church is true, Pesina said, "but it takes a lifetime to build a marriage. … All married couples, whether they're married a few years or a lot of years, I think it's a wonderful reflection to say we're all in process and we keep working at building a marriage."
[Tom Roberts is NCR editor at large. NCR staff writer Brian Roewe, NCR Bertelsen interns Traci Badalucco and Elizabeth A. Elliott, and Global Sisters Report staff writers Soli Salgado and Dawn Araujo-Hawkins contributed to this report.]
A version of this story appeared in the April 22-May 5, 2016 print issue under the headline: A leap or baby step?.