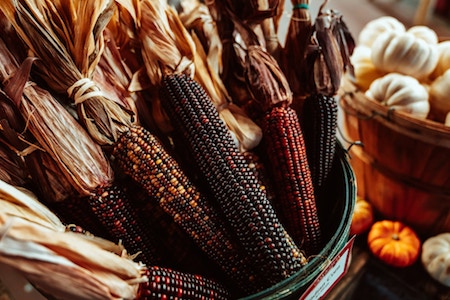 Photo by Meritt Thomas/Unsplash
Editor's Note: EarthBeat Weekly is your weekly newsletter about faith and climate change. Below is the Nov. 15 edition. To receive EarthBeat Weekly in your inbox, sign up here.
With the holiday less than two weeks away, it's time to begin planning the menu -- especially if you're considering a radical departure from tradition.
Our extended family household (across the hall apartments) includes three vegetarians and three meat-eaters. Many of our combined meals include both meat and veg to pick from.
But the time seems right for a holiday celebration that goes all veg.
There appear to be plenty of recipe options out there, but I'm also looking for personal stories of vegetarian holidays -- and how they played out family-wise as well as food-wise, especially among families of mixed palates. I hope you'll share your stories with me, and I'll pass some of them along in next week's newsletter.
At lunch last week with NCR President and CEO Tom Fox and Executive Editor Tom Roberts, we all tried the Impossible Burger at the Burger King down the street from NCR headquarters in Kansas City.
"If you're going to eat at Burger King," said Roberts, "(the Impossible Burger) is an interesting option." He went on to say that he'd rather not know exactly what goes into the burger he ate, a question the makers Impossible Burger address here.
Fox was less impressed: "Perhaps because I've tasted some very good veggie burgers over the years. Next time I want to go meatless, I won't try to pretend I'm eating meat."
Point taken. One recipe I'm not looking for is an Impossible Turkey.