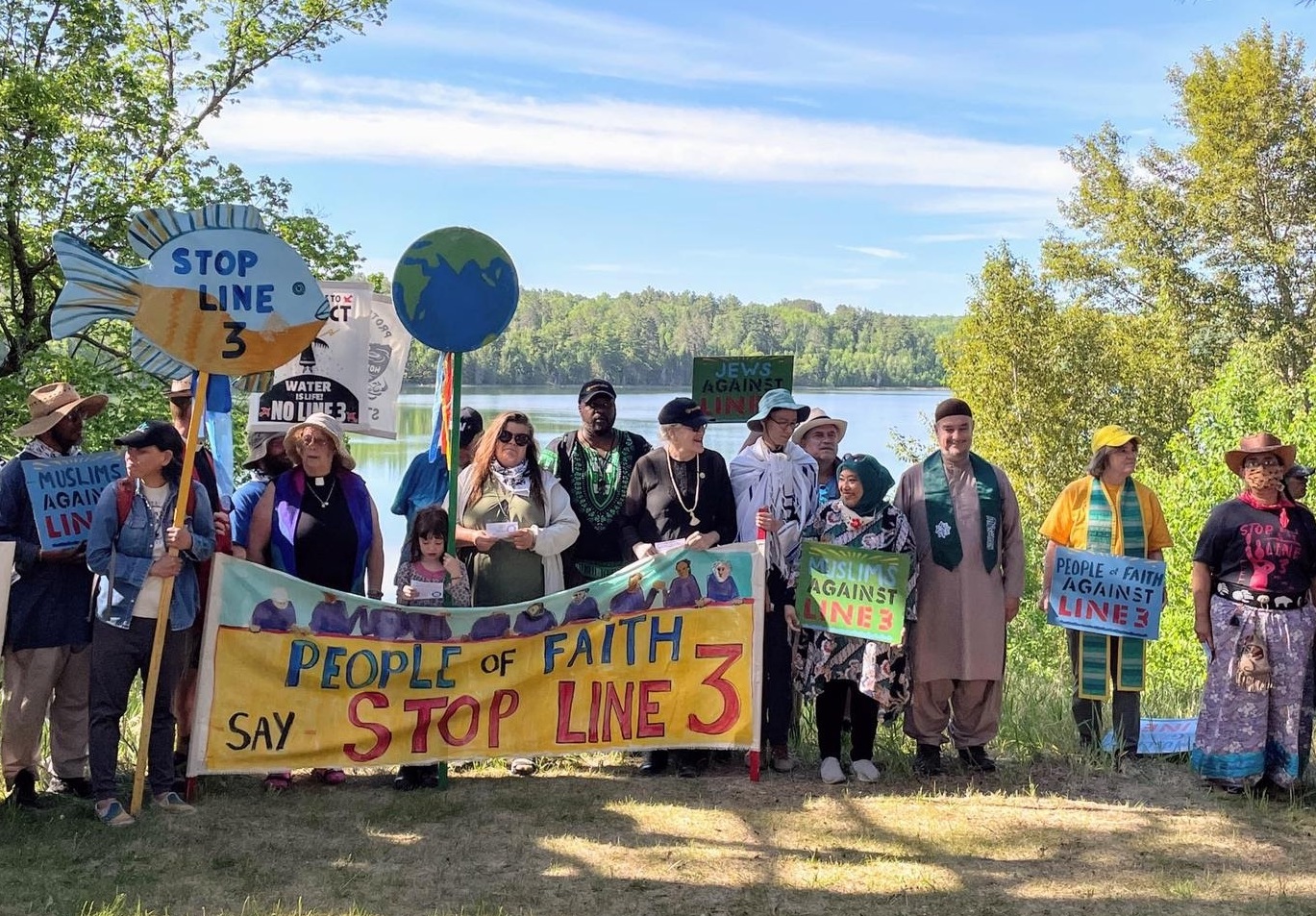 Faith leaders join the Treaty People Gathering June 5-8 in northern Minnesota to protest construction of the Enbridge Line 3 oil pipeline. (GreenFaith)
Editor's Note: EarthBeat Weekly is your weekly newsletter about faith and climate change. Below is the June 11 edition. To receive EarthBeat Weekly in your inbox, sign up here.
Infrastructure has been in the news this week, and people of faith have been at the forefront.
On Thursday, a rally in Washington, D.C., which sought to bring together 100 faith leaders in support of President Joe Biden's measures to green the country's infrastructure and shift to 100% clean energy, actually drew 102, as NCR environment correspondent Brian Roewe reports.
That June 9 event was one of a series of activities in which people of faith urged the administration not to back down on its pledges to address climate change through infrastructure investments, despite pushback from Republicans in Congress.
In addition, the Evangelical Environment Network organized a letter, signed by more than 100 pastors, professors and others, urging congressional leaders "to support historic levels of investment that will safeguard creation, defend our children's health, address the impacts of climate change and pollution from fossil fuel extraction and related industries, and fulfill our moral obligation to leave a healthy world for future generations."
And also on June 9, TC Energy Corp., the Canadian company behind the Keystone XL pipeline intended to transport oil to Texas from the tar sands in Alberta, Canada, announced it was canceling the project.
"After more than 10 years of organizing we have finally defeated an oil giant, Keystone XL is dead!" the Indigenous Environmental Network said in a statement. "We are dancing in our hearts because of this victory! From Dene territories in Northern Alberta to Indigenous lands along the Gulf of Mexico, we stood hand-in-hand to protect the next seven generations of life, the water and our communities from this dirty tar sands pipeline."
The group added, however, that it would keep fighting pipeline projects. One of those battles played out earlier in the week, when faith leaders joined Indigenous people and environmental activists in northern Minnesota to protest the continuing construction of Enbridge's Line 3, another transnational pipeline. Line 3 is intended to replace and expand an existing pipeline along a route that crosses or passes near Indigenous lands. At least 200 demonstrators were arrested, and opponents of the project vowed to fight on.
"It is striking to see miles of pipeline laid out at the same time as we need to be reducing our dependence on fossil fuels and setting a 100% clean energy target," the Rev. Susan Hendershot, president of the climate coalition Interfaith Power & Light, wrote in an email to EarthBeat.
That sentiment could be echoed around the world. Here in Peru, where I live, a half-century of oil production has left a toxic legacy in the country's northeastern Amazon region, in watersheds inhabited mainly by Indigenous peoples. The same is true in Ecuador, where communities won a court case but have yet to see compensation or cleanup.
In Africa, a study in Nigeria found higher rates of infant death among children of women who were exposed to oil spills while pregnant. Nevertheless, construction of a $3.5 billion heated oil pipeline from Uganda's oil fields to the Tanzanian coast continues despite protests, and plans are under way for new oil drilling in Namibia and Botswana.
Hendershot's words about Line 3 could just as easily apply to Indigenous communities around the world that must live with the impacts of oil pipelines: "And of course the same communities that are bearing the brunt of fossil fuel pollution are being asked to bear the risk of the pipeline polluting their waterways and sacred wild rice harvest."
She added, "It is a moral travesty when one believes in the sacredness of the air, the water, and the soil. By moving to 100% clean energy these projects will no longer be considered necessary or viable."
---
Honors for EarthBeat:
Here at EarthBeat, we always strive to bring you high-quality coverage, and it's gratifying when others tell us we hit the mark. EarthBeat came away from the Catholic Media Association's virtual awards ceremony June 10 with more than half a dozen awards.
Roewe won first place for his feature about the first Earth Day celebration, third place for his report on Laudato Si' at five years and honorable mention for coverage of Catholic divestment from fossil fuels. Freelancer Claire Schaeffer-Duffy won first place for her story about a woman fighting for environmental justice in Louisiana; and my story about the Synod for the Amazon, one year later, took second place.
In photography, Paul Jeffrey earned a first-place award for his Lens on Creation reflections, and Sean Hawkey won second place for his photo essay about Christmas in Honduras in the wake of two devastating hurricanes.