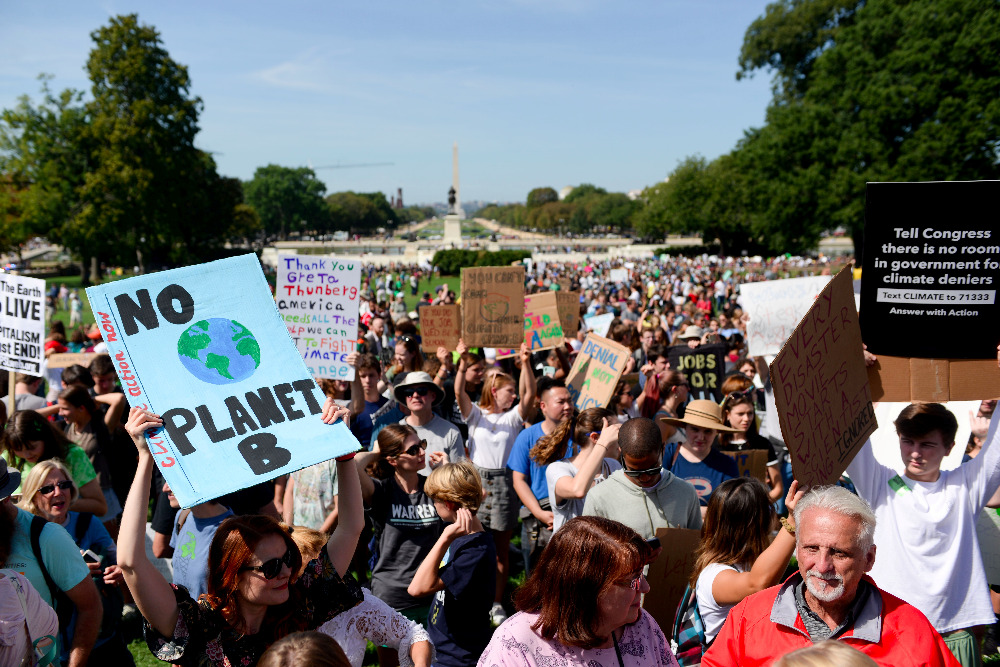 Climate change activists rally in Washington in September 2019. (CNS photo/Carol Zimmermann)
Editor's Note: EarthBeat Weekly is your weekly newsletter about faith and climate change. Below is the Oct. 30 edition. To receive EarthBeat Weekly in your inbox, sign up here.
The Earth is approximately 4.54 billion years old. But today, EarthBeat turns exactly 1.
Yes, it's been a full year since National Catholic Reporter launched EarthBeat, a dedicated news section devoted to covering how people of faith are experiencing and responding to climate change and environmental challenges around the world.
In this first year, EarthBeat has published upwards of 400 stories. That includes breaking news reports, in-depth features, interviews, explainers (Burning Questions), reader-submitted "Small Earth Stories" and five spiritual reflection series that have coincided with Advent, Lent, the Season of Creation and more.
EarthBeat debuted just as the Vatican's Synod for the Amazon was concluding. And it arrived in time for the fifth anniversary of Pope Francis' social encyclical on the environment, "Laudato Si', on Care for Our Common Home," the 50th Earth Day and the rise of a global pandemic that has posed significant consequences for both people and the planet. And our reporting has carried datelines from around the globe: Italy and Ireland, Costa Rica and Peru, New Zealand and Zimbabwe.
Safe to say, it's been a busy first year.
To mark EarthBeat's birthday, I've gone back through our coverage and compiled a list of some of our most-read stories, some staff favorites and few worth a second look.
Most-read news articles:
EarthBeat staff favorites:
Worth a second read:
---
Readers react to last week's EarthBeat Weekly:
Susan Vogt had doubts about efforts by Brazil's Rio de Janeiro Archdiocese to recycle plastics. "This is good," she wrote, "BUT what happens to the plastics collected? The article said it was sent to somewhere in Canada. Of course that means transportation and fuel costs (by ship or air). And what does Canada do with the recycled plastics? From what I read, the market for recycled plastics is dwindling.
"The better solution is to reduce the consumption of single-use plastics, thus driving the producers of plastic to change to produce other commodities. This would also help reduce the pollution that the production of plastics causes by fracking and the petrochemical industry. More energy needs to be put into this preventive solution beyond just collecting plastics after they have been used."
"Reduce before recycle" is advice Vogt gave us last February, too, in a Small Earth Story.
Reader Maeve Race took issue with scientists who said that pandemic lockdowns had made it difficult to get pesticides to combat Africa's locust plague. "The knee-jerk reaction of 'scientists' is appalling," she wrote.
"Not only have they forgotten Silent Spring, they clearly know very little about Africa. Pesticides would kill not only locusts, but many other creatures (insects, birds, amphibians, reptiles, small mammals), including those that eat locusts, and the many creatures that eat those that have died from the locust poisoning.
"Furthermore, pesticides would pollute the whole environment. Not only that, but locusts themselves are also a nutritious food source for people. Generally speaking, native Africans are partial to eating locusts, and they are 'manna from heaven' for hungry and malnourished people suffering from the effects of drought and floods. Squeamish westerners may not find them appetizing, but so-called experts should not be imposing their own tastes when seeking solutions to environmental disasters."
Race recognized the damage locusts cause to crops and the local economy, but added that "killing so-called 'pests' has never been the solution to the environmental disasters resulting from global industrial, economic and agricultural plundering."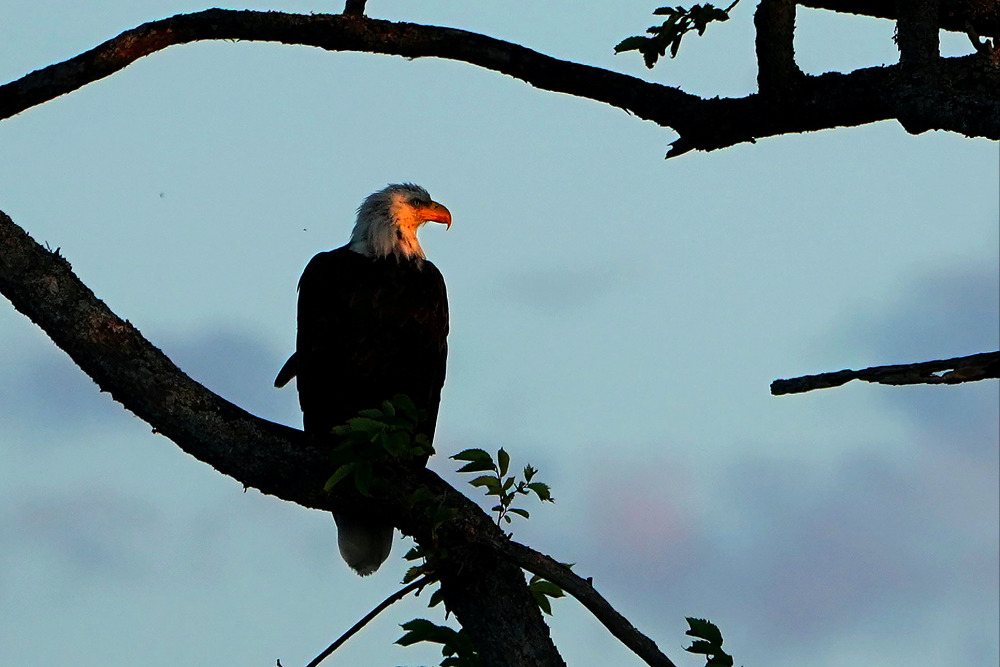 Rachel Carson's momentous work, "Silent Spring," warned of the hazards of pesticides for birds and other wildlife. (CNS photo/Chaz Muth)
Here's what else is new on EarthBeat this week:
---
Here's some of what's new in other climate news:
---
Upcoming events:
"COP26 — Ramp up ambition" is the second in a three-part series of webinars, "Visions for transformative climate action," sponsored by the Lutheran World Federation.
This session brings together representatives from the scientific, policy and faith communities for an interdisciplinary discussion on the agenda for COP 26, originally scheduled for November but postponed until next year, and what it means for climate action now.
You can find more information about this and other events on our Upcoming Events page.
---
Closing beat:
Our celebration of EarthBeat's first year is also a celebration of you, our readers, and your commitment to making the world a better place for all of us, human and other-than-human beings alike. Thank you for your continued support.
You've heard my thoughts about EarthBeat's first-year coverage. What stories were your favorites, and which do you think are worth reading again? Let us know at earthbeat@ncronline.org.
If you like EarthBeat Weekly, why not share it with a friend? Feel free to forward this newsletter or pass along the link to EarthBeat Weekly on our website. And if someone forwarded it to you, you can sign up here to receive the newsletter in your inbox every Friday .
Thanks for reading EarthBeat!
Brian Roewe
NCR environment correspondent
broewe@ncronline.org