People are seen at an early voting site in Fairfax, Virginia, Sept. 18. (CNS/Reuters/Al Drago)
It comes up in phone calls and email exchanges: "Given his support for legal abortion, can a faithful Catholic vote for Joe Biden?"
Both of us have fielded questions like that in recent weeks. Maybe you have, too.
The short answer is "Yes."
The longer answer relies on a combination of church teaching and the conscience of individual Catholics. But you might not know that to hear from some priests, politicians and prelates, not to mention other Catholic media and an occasional former college football coach.
To counter the narrative that to be Catholic means you must vote Republican and for Donald Trump, NCR has published a number of articles over the past months to educate our readers both about actual church teaching on the matter, and to provide a forum for voices of Catholics struggling with the choice this November.
As a friendly reminder — and for suggested social media sharing and forwarding to that friend from high school or great-uncle-twice-removed who insists Biden or those who vote for him are not really Catholic, we offer this roundup of recent helpful articles and columns.
San Diego Bishop Robert McElroy, in a virtual Oct. 13 address hosted by St. Mary's College, made it clear: "There is no single issue which in Catholic teaching constitutes a magic bullet that determines a unitary option for faith-filled voting in 2020." We have the text of the bishop's full talk, plus a news story that summarizes it, including how McElroy also decried those who question a candidate's Catholicity and noted that "in the end, it is the candidate who is on the ballot, not a specific issue."
Conscience counts, as McElroy stressed throughout his talk. As Pope Francis wrote four years ago in his apostolic exhortation on family life, Amoris Laetitia, "The faithful are capable of carrying out their own discernment in complex situations." He added, "We have been called to form consciences, not replace them."
Character counts, especially for Catholic voters, argues Patrick Carolan, the Catholic outreach director for Vote Common Good, a group of progressive religious folks.
But doesn't the church teach that you can't vote for a pro-choice candidate? Catholic ethicist David DeCosse helps correct the record, by explaining the teaching — from the U.S. bishops and former Pope Benedict XVI — that voting for a pro-choice candidate is allowed if the choice made is for other reasons the individual deems "proportionate" and "truly grave moral" ones.
Several bishops have pushed back against single-issue voting: Bishop John Stowe of Lexington, Kentucky, said that other issues, including the environment, are critical in voting, and Newark Cardinal Joseph Tobin said in a webinar: "I think that a person in good conscience could vote for Mr. Biden. I, frankly, in my own way of thinking have a more difficult time with the other option." Francis also is against one-issue voting, arguing that all life is "equally sacred" in his 2018 apostolic exhortation, Gaudete et Exsultate. Network, the Catholic social justice lobby, has been educating voters with its Equally Sacred scorecard.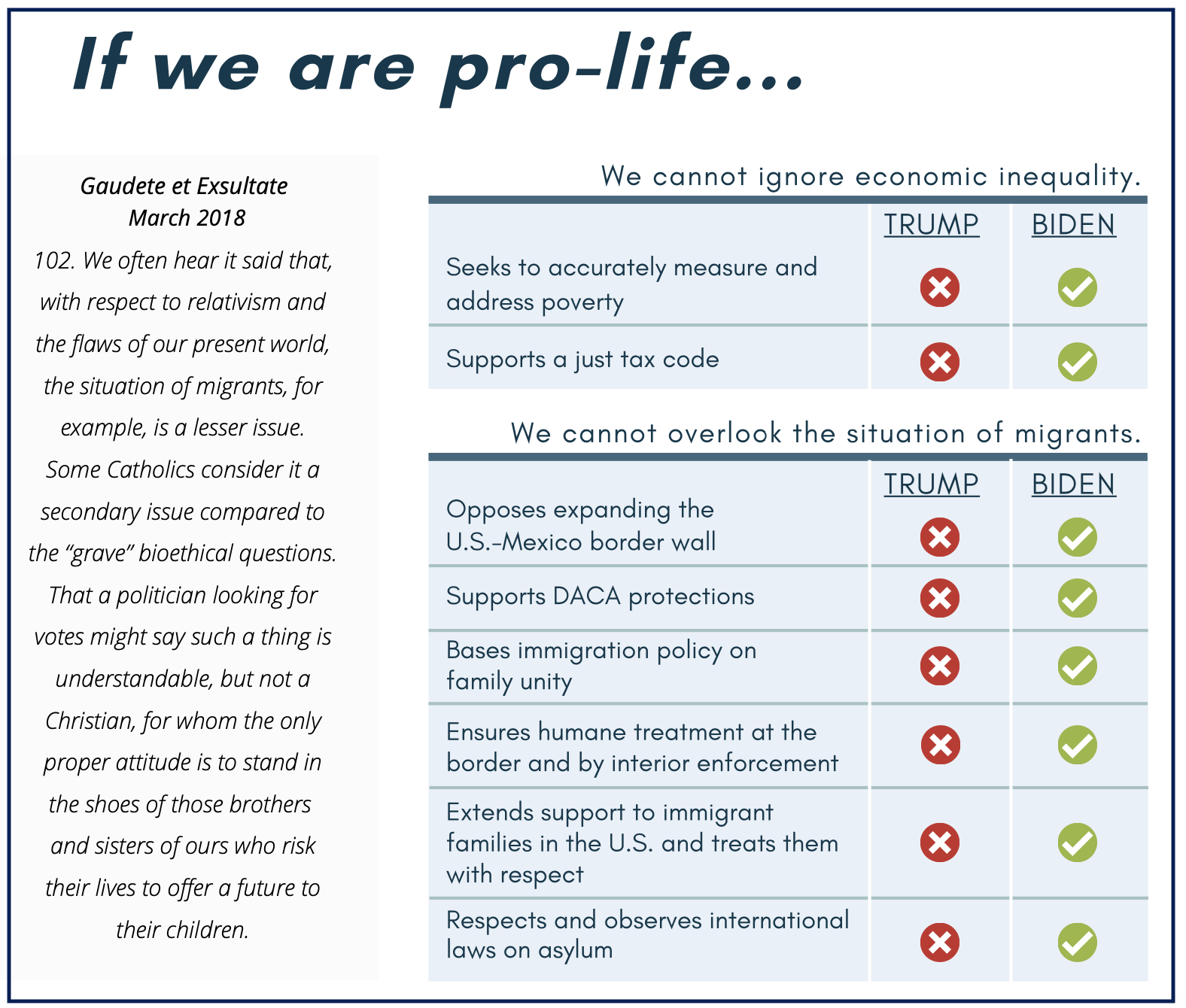 Clip from Network's "Equally Sacred Priorities" voting guide (Courtesy of Network)
A version of this story appeared in the Oct 30-Nov 12, 2020 print issue under the headline: Can Catholics vote for Biden?.